MEP Clara Ponsatí returns to Brussels after being detained and released in Barcelona
Formerly exiled Catalan pro-independence politician is summoned to appear in Spain's Supreme Court on April 24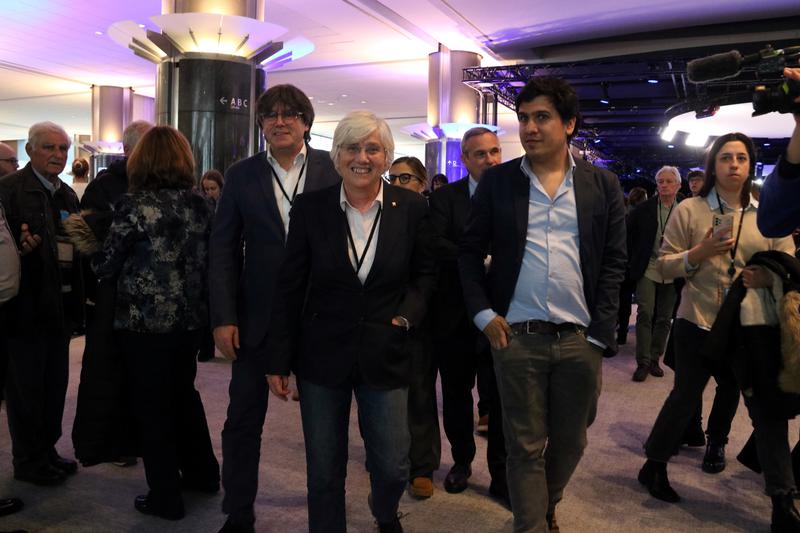 MEP Clara Ponsatí returned to Brussels early Wednesday morning after being detained and released in Barcelona on Tuesday evening, as Catalan RAC1 radio station first reported and the Catalan News Agency (ACN) later confirmed.
Ponsatí went to Barcelona-El Prat airport early in the morning to fly to the Belgian capital ahead of a European Parliament session that same afternoon.
The pro-independence Junts politician who was the Catalan education minister at the time of the 2017 referendum deemed illegal by Spain faces charges for disobedience, a non-imprisonable offense, but was arrested for not voluntarily appearing before a judge upon arrival.
Ponsatí was released around 11 pm after being detained hours after returning to Catalonia for the first time in five years. Ponsatí crossed the France-Spain border by car around midday, catching most by surprise, before making her way to Barcelona.
The politician was also informed that Supreme Court judge Pablo Llarena, the magistrate in charge of referendum-related proceedings, has called on her to attend a hearing on April 24 at 11 am to formally notify her of her charges, something her lawyer Gonzalo Boye later said she does not intend to do.
She later confirmed that she didn't "feel like talking to any judges," even with there being a "judge in Madrid, who really wants to talk to me."
Llarena lifted Ponsatí's arrest warrant and ordered the politician to report a home address and phone number. The judge also warned her that failure to attend the upcoming hearing could result in her arrest.
Although disobedience, the charge she now faces after Spain's recent criminal code reform, entails no prison time, Ponsatí could still be fined and disqualified from public office if tried and found guilty.
Ponsatí criticizes European chamber president
MEP Clara Ponsatí attended the European Parliament plenary session on Wednesday following her detention in Barcelona on Tuesday.
The pro-independence politician criticized the president of the chamber, Roberta Metsola, for being "incapable of reacting" to her arrest.
"Metsola was immediately informed of the arrest and we asked her to do something to defend parliamentary immunity. So far she has not done so. It is a very unfortunate situation that leaves the European Parliament in a very bad place," Ponsatí said upon arrival for the plenary session.
Despite saying that she has "no particular desire to speak with any judge," Ponsatí did not confirm whether or not she will go to the Supreme Court and insisted that her arrest was "illegal."
"We will bring it up with the appropriate authorities," she said.
On the other hand, the MEP for Ciudadanos, Jordi Cañas, called on for the "session to become a circus," and he added that Ponsatí was able to travel to Spain, because it is a "lawful" country that "guarantees" the rights of MEPs.