Exiled pro-independence MEP Clara Ponsatí arrested upon returning to Catalonia after five years
Former education minister charged with disobedience for 2017 independence vote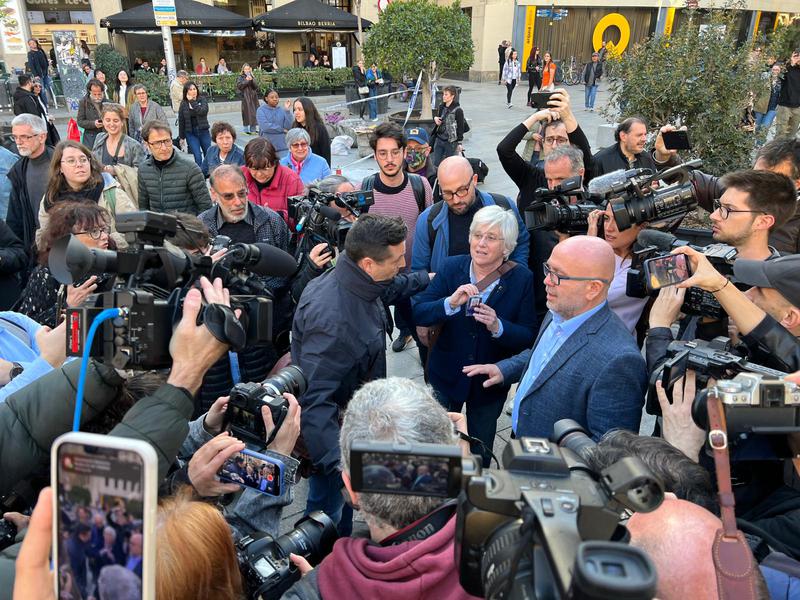 Pro-independence Junts MEP Clara Ponsatí has been arrested in Barcelona hours after returning to Catalonia after over five years in exile in Scotland and Belgium.
She returned despite there being an open warrant for her arrest for her role in the October 2017 independence referendum deemed illegal by Spain. As she is only charged with disobedience, a non-jailable offense, the Supreme Court said Ponsatí would not have been arrested had she appeared in court of her own accord.
Ponsatí, who was Catalonia's education minister at the time of the vote, came to Barcelona by surprise around midday on Tuesday after crossing the Spain-France border by car.
"I feel very good," she told the Catalan News Agency right after crossing the border. "I'm happy to have been able to set foot in Southern Catalonia again," she said, referring to the times she has traveled to Northern Catalonia, now in France.
Detained after refusing to appear before judge
The recent reform of the Spanish penal code and the Supreme Court's subsequent revision of the indictments of the referendum organizers who have not yet been tried, including former president Carles Puigdemont, means that Ponsatí no longer faces sedition or its replacement, aggravated public disorder, but only disobedience, which does not carry a prison sentence.
The returning exile first gave a press conference in Barcelona before going for a walk through the Catalan capital. Ponsatí claimed she could not be arrested due to having provisional immunity as a Member of the European Parliament, awarded to her by the Court of Justice of the European Union.
Ponsatí also gave an interview with the Catalan News Agency in the car on her way back to Catalonia, in which she said she did not recognize the authority of the Supreme Court judge in charge of the case of the independence leaders, Pablo Llarena.
She also affirmed that it would be "illegal" if she were to be arrested due to her status as an MEP giving her parliamentary immunity.
Ponsatí said her plan was to return to Catalonia frequently, while also working in Brussels and Strasbourg as an MEP.
The Supreme Court had said that if Ponsatí voluntarily appeared before the judge, then she would not be detained. Yet, Ponsatí let it be known that she had no intention of appearing before judge Pablo Llarena voluntarily, and therefore the Supreme Court pointed out that due to the arrest warrant being active, "the police are obliged to arrest her."
"Political persecution"
In a press conference earlier in the afternoon, Ponsatí said she "does not know what the future will bring" as she is subject to "political persecution." She said judges only wanted to speak with her rather than jail her, and she felt confident that she can freely travel through Spain despite the arrest warrant.
In the press conference, the MEP also denounced that Spain was "persecuting" all of Catalonia, and claimed this had led to an "erosion" of Spain's influence within Europe.
She called on European institutions to stop turning away from the "systematic violation of rights" happening against pro-independence figures. Ponsatí also says she will continue working as a Member of the European Parliament.
Ponsatí presented a new platform at the press conference that serves as an inventory of the "persecution against Catalonia" - found at the website estatdedret.cat.
So far, the group has registered 1,000 cases of violation of rights between 2003 and 2023, and Ponsatí says it will serve as a "tool" to help "all Catalans."