Supreme Court upholds misuse of public funds and disobedience charges against Puigdemont
Former president not accused of aggravated public disorder as requested by public prosecutor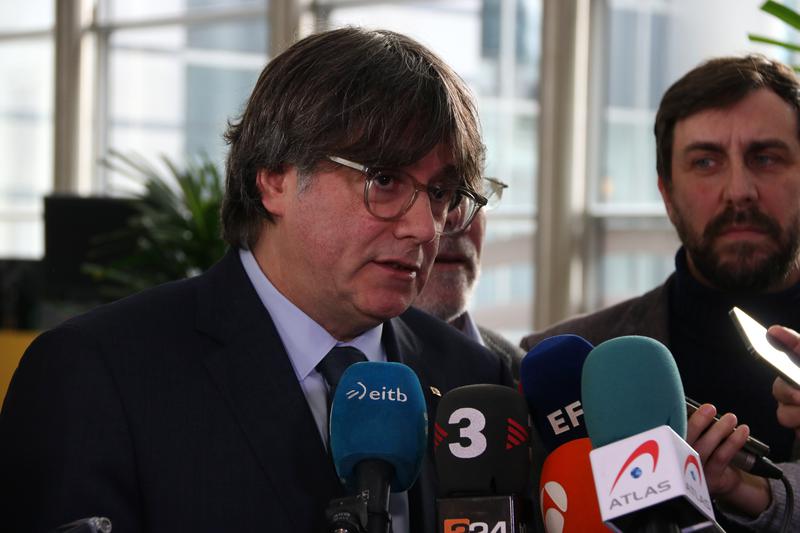 The Spanish Supreme Court has upheld its decision to indict former Catalan president Carles Puigdemont for the crimes of misuse of funds and disobedience.
In a decision announced on Tuesday, judges rejected the public prosecutor's request to charge him with aggravated public disorder instead of disobedience.
This decision implies there will be a warrant sent out for his arrest in Spain, but not an international one, at least not yet. Puigdemont has thus far been able to dodge multiple extradition attempts.
The review of Puigdemont's indictment is the result of adapting the charges he was facing to the reformed Spanish penal code, which was approved three months ago.
The exiled leader, who has been living in Brussels ever since the failed October 2017 independence push, is thus still facing charges that could entail time behind bars, but potentially for fewer years.
Misuse of funds can carry prison time of between six months and up to five years if the politician is convicted, but disobedience only carries a disqualification from public office.
Before the new penal code came into effect, the pro-independence politician who is now an MEP was facing sedition and misuse of funds charges – the combination of both meant a 13-year sentence for his former vice president in the 2017 cabinet, Oriol Junqueras.
The latest penal code changes scrapped the crime of sedition and replaced it with that of aggravated public disorder. Yet, while the public prosecutor requested it be applied to Puigdemont in January, the Supreme Court has now upheld its original decision – also in January, judge Pablo Llarena, in charge of the politician's proceedings, ruled out that the events of 2017 constitute this new crime.
Former minister and former MP in exile no longer face jail in Spain
Judge Llarena also upheld his decision to keep charges of misuse of public funds and disobedience for the former health minister Toni Comín, now also an MEP, and the former culture minister, Lluís Puigdemont, for the same events.
The court also confirms that former culture minister, Clara Ponsatí, who is currently also an MEP, and former MP Marta Rovira no longer face sedition and will not face its replacement, aggravated public disorder, but disobedience.
Thus, they would be free to return to Catalonia from exile without the possibility of imprisonment – two formerly exiled officials, Meritxell Serret and Anna Gabriel, have already returned, reducing the number of exiles stemming from the 2017 events from seven to five.
Puigdemont's appeal over immunity also rejected
After the judge's initial decision, Puigdemont said that the Supreme Court cannot try him due to his current status as MEP.
His lawyer said that Spain's judiciary would need to first ask for formal permission from the European Parliament before issuing an arrest warrant.
Yet, in his decision on Tuesday, Pablo Llarena rejected these arguments saying that Puigdemont was originally indicted in March 2018, before he became an MEP in June 2019.