King says Constitution is 'cornerstone' of coexistence and calls for 'loyalty and respect'
Citizens urged to "continue doing everything possible" to tackle pandemic in annual Christmas Eve speech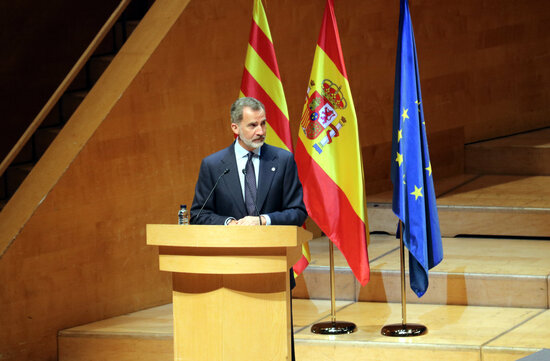 The Spanish Constitution was the central theme of King Felipe VI's traditional Christmas Eve speech this year.
The monarch, who made no mention of his father Juan Carlos or any of the scandals he has been involved in, repeatedly alluded to the Constitution, describing it as the "cornerstone" of coexistence in Spain since the transition to democracy forty years ago, and called for "loyalty and respect" for it.
"Its spirit calls for unity in the face of division, dialogue, and no confrontation, to respect in the face of resentment," he said. "It calls for integration rather than exclusion and permanently inspires civic, serene, and free coexistence."
The Constitution, which was ratified in 1978 and turned Spain into a parliamentary monarchy following fascist Dictator Francisco Franco's death, has its detractors in Catalonia and beyond, with Catalan president Pere Aragonès recently calling it "obsolete."
Recent attempts to remove its references to "the physically, sensorially and mentally handicapped" and change them to "people with disabilities" have also been blocked by the conservative People's Party and far-right Vox.
Social, technological, environmental, and economic "challenges"
Felipe VI also spoke of Spain's social, technological, environmental, and economic "challenges." "There are now more vulnerable people, and many households are worried about rising costs, the price of electricity, or difficulties finding stable employment," he said. Wholesale electricity prices have been rising since last summer, surpassing €400/MWh for the first time ever only a day earlier.
The king said the country was at a "crossroads," although he maintained these issues were a "historic opportunity to modernize the country and strengthen our democratic convictions and the values that inspire coexistence."
Covid-19 health crisis
The pandemic, which according to official Ministry of Health figures has killed just under 90,000 people in Spain as of December 23, was another central theme of the king's speech.
"We have made substantial strides in our fight against the pandemic thanks to the discovery and authorization of vaccines, the large number of Spaniards who have been vaccinated, as well as the vaccine rollout in our country, which we should be particularly satisfied with," he said.
But, he warned, "the virus can still do much harm." "It is once again transmitted very quickly, and, therefore, the risk is not gone."
Catalonia, Spain, and other parts of the globe have been registering record-high daily Covid-19 case numbers largely attributed to the highly contagious Omicron variant.
New measures have come into effect all over Catalonia, where there have been well over 10,000 new cases for four days in a row, including a 1 am to 6 am curfew in larger cities with higher 7-day Covid-19 incidence rates, a 10-person limit on gatherings, the closure of nightclubs, and new capacity limits: 50% inside restaurants and 70% in stores, gyms and cultural venues.
Face masks must be worn outdoors all over Spain again by everyone 6 and older, regardless of whether distances can be kept, as well as indoors in places open to the public.