In Catalonia, it's a not-so-happy anniversary for the Spanish constitution
40 years after it was passed, most Catalans would vote against the text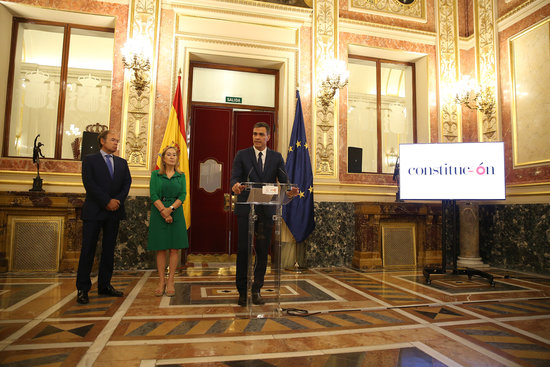 For many Catalans, the 40th anniversary of the Spanish constitution is not a day for celebration. Recent polls show that 57% of people in Catalonia would reject the text if it was voted today, with only 17.4% backing it.
On December 6, 1978, support for the constitution was overwhelming in Catalonia: 90.46%, two points above the referendum results in Spain as a whole.
"Constitution was passed with dictatorship leaders still there"
This was three years after the death of dictator Francisco Franco, and "the Constitution was passed while the dictatorship leaders were still there," says Mar Aguilera, a constitutional law professor at the University of Barcelona.
"Today, most Catalans have moved on from the constitution," said Catalan vice president Pere Aragonès. "Therefore, the Catalan government, with the president leading the way, responds to the will of our society."
Pro-independence officials avoided attending events celebrating the constitution's anniversary, in yet another example of the long-running animosity between governments in Catalonia and Madrid.
Although the situation cooled down from a year ago, when Spain seized control of Catalan institutions following a declaration of independence, the upcoming trial against pro-independence leaders is set to raise tensions again.
Right to self-determination in constitution?
Many Catalan parties have long called on Spanish authorities to recognize the right to self-determination and allow a referendum on independence. Yet, Madrid maintains that Spain's unity is protected in the Carta Magna and allowing such vote would open the can of worms for fracturing Spain.