Junqueras' immunity issue splits opinion in EU parliament
Chamber VP says favorable ruling on Catalan leaders' MEP status would be "useful lesson," while unionists argue Spain should have final say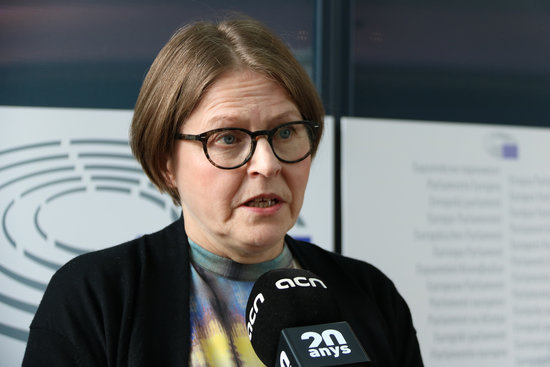 One of the vice presidents of the European Parliament says that if the Court of Justice of the EU (CJEU) rules that a jailed Catalan leader prevented from taking up his seat as an MEP should have immunity, it will be a "very useful lesson" for the EU chamber.
Talking to the Catalan News Agency on Thursday, deputy speaker of the EU parliament and Green Party member, Heidi Hautala, said such a decision would also provide a "lesson" for states that "try to condition and restrict the adoption of an elected member's mandate."
Hautala was responding to the advice from the advocate general of the CJEU, Maciej Szpunar, that former vice president, Oriol Junqueras, who is serving 13 years in prison for the 2017 independence bid, should have parliamentary immunity as an MEP-elect.
Spain's judiciary blocked Junqueras from taking up the seat he won in May's European election, but after his case was referred to the CJEU, the advocate general, who advises the court on legal matters, said this week that "only voters" can decide who becomes an MEP.
The European court must now make a ruling on Junqueras' status, with Hautala calling Szpunar's advice a "strong indication" as to the judgement the court will make on Junqueras' parliamentary immunity, which if upheld would be "groundbreaking."
Socialist says advice is non-binding
Yet, not everyone agrees. Socialist MEP and head of the EU's Committee on Civil Liberties, Juan Fernando López Aguilar, says the advocate general's advice is not binding and that it is "increasingly frequent" that the court "distances itself" from the top lawyer's conclusions.
"The Court of Justice has the final say," points out López Aguilar, who adds that the court will have to take into consideration the effects its ruling could have on Spain and EU institutions: "Spain is a member state of the European Union bound by European law."