Spanish court to query EU on Junqueras' parliamentary immunity
Spain's high court to ask whether Oriol Junqueras should be allowed out of prison to take up seat as MEP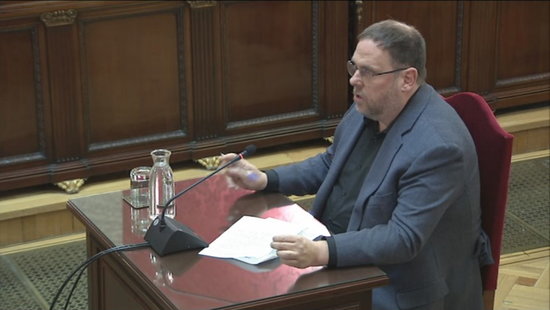 Spain's Supreme Court is to query the Court of Justice of the European Union (CJEU) on the extent of jailed Catalan leader Oriol Junqueras' parliamentary immunity after he was elected an MEP in May's EU election.
Junqueras, who is awaiting a verdict by the Spanish high court after being tried for his part in the 2017 independence bid, was denied permission to leave prison to complete the accreditation process in Madrid that would allow him to take his seat in the EU parliament.
The Supreme Court will ask the CJEU whether Junqueras enjoys parliamentary immunity despite not having completed the accreditation process, and if so, whether he has the right to be allowed out of prison to do so, and to attend the European Parliament.
Meanwhile, former president Carles Puigdemont and former minister Toni Comín, who are both in exile and who also both won seats in the EU parliament, have asked to be included in the Supreme Court's query.
As they risk arrest if they return to Spain, like Junqueras, neither completed the accreditation process and so were excluded from the official list of Spanish MEPs Madrid sent to Brussels. For the moment, the MEP seats of all three men have been declared vacant.
Provisional 'no' to exiles
The Luxembourg court provisionally rejected the request from the Catalan MEPs-elect Carles Puigdemont and Toni Comín, both exiled in Belgium, to be allowed to take up their seats and attend Tuesday's plenary session.
Specifically, the court argues that Puigdemont and Comín have already filed an appeal to the Spanish courts for the requirement to take the oath and officially become MEPs, and that the case is still "pending." Therefore, the court affirms that this question must be resolved "by the national authorities".