EU court advocate general recognizes jailed Catalan leader Junqueras as an MEP
Maciej Szupnar says Spain cannot prevent former vice president from taking up his European Parliament seat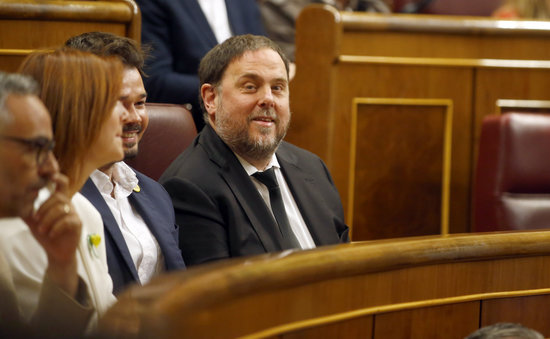 The advocate general of the European Court of Justice (ECJ) has said that jailed Catalan leader Oriol Junqueras has the right to be a Member of the European Parliament despite Spain not letting him take up his seat after he was elected in May.
In an assessment issued before the ECJ makes a final decision on the matter, the advocate general Maciej Szpunar stated that Spain's Supreme Court cannot prevent Junqueras from taking up his seat.
The court in Luxembourg is due to make a final ruling in the coming months following the advocate's advice.
The advocate general says it is "only voters" who can decide who becomes an MEP, and that it is up to the European Parliament to decide whether to allow Junqueras legislative immunity.
He has said that once elected, MEPs have a mandate governed by European law, and Spain ''cannot revoke or limit without an express authorization'' of European institutions, stating that the law does ''not allow any member state to suspend the mandate of a member of the European Parliament or their prerogatives for any reason.''
Junqueras' lawyer, Andreu Van den Eynde, says the advocate general's conclusions could set a precedent for future immunity cases and affect his client's sentence if the court accepts his position.
Former president of Catalonia Carles Puigdemont, who, in exile in Belgium, was also unable to assume his position as an MEP, has said that the advocate's opinions embody the ''enormous injustice'' that Junqueras has been victim of.
Puigdemont said that Junqueras's ''rights have been harmed,'' and that Junqueras, Toni Comín, also currently in exile, and himself should be able to take up their seats in European Parliament.
Meanwhile, ERC MEP Diana Riba believes that Szpunar's opinion demonstrates another ''reversal to Spanish justice.'' In a media address following the ECJ advocate declared his position, Riba said that she considered it to be a ''very clear warning to Spanish justice.
''Spanish justice will have to choose whether to follow European standards or if you want to continue using the repression to prevent them from being MEPs,'' she added. ''It's not an internal question, it's European.''
Junqueras was one of the independence leaders involved in the organization of the 2017 independence referendum deemed illegal by Spanish authorities.
He was however held in provisional detention for his actions, and in October 2019 sentenced to 13 years in jail for sedition.
Junqueras, leader of left-wing party Esquerra, was elected as an MEP in May but the Spanish Court did not allow him to take up his seat. Junqueras had appealed for parliamentary immunity and asked that the verdict to the Catalan Trial was put on hold until a ruling had been issued, but the Supreme Court denied the request.