Jailed and exiled politicians to take part in European election TV debate
Electoral authority gives green light for Junqueras and Comín to participate via video link, with Puigdemont also demanding to appear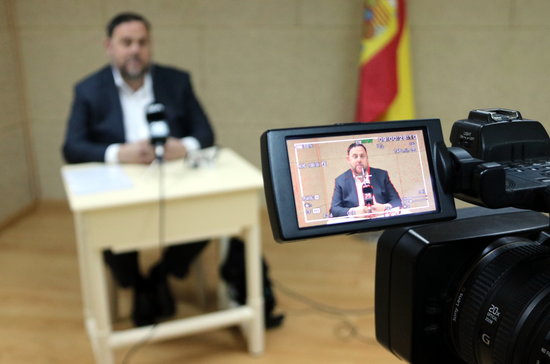 Two of the Catalan politicians charged with rebellion over the 2017 independence bid will be allowed to take part in a televised debate for the European elections.
The Esquerra party's main candidate, Oriol Junqueras, will join the debate on Catalan public TV via video link from prison, where he is in custody while being tried in the Supreme Court.
Toni Comín, the second candidate for Lliures per Europa, will do the same from exile in Belgium, where he went following the declaration of independence in 2017.
Both candidates were members of the Catalan government during the bid to split from Spain in 2017, Junqueras serving as vice president and Comín as health minister.
The decision to allow the candidates to take part in the debate was upheld by Barcelona's electoral authority following an appeal by the unionist Ciutadans party on Saturday.
Puigdemont also aims to take part
Former president in exile, Carles Puigdemont, reacted on Twitter to the decision to allow Junqueras to take part, saying: "If he's going to be there, then so will I."
The former president, who is also in exile in Belgium, is standing for a seat in the European Parliament as the main candidate for Lliures per Europa.
"It would not be fair, we don't want an advantage thanks to the repression," added Puigdemont, who would likely replace Comín if allowed to also take part in the debate.