Independence topic raised in European Commission president debate
European Free Alliance calls on candidate to be an "honest broker," while People's Party "sure" on unity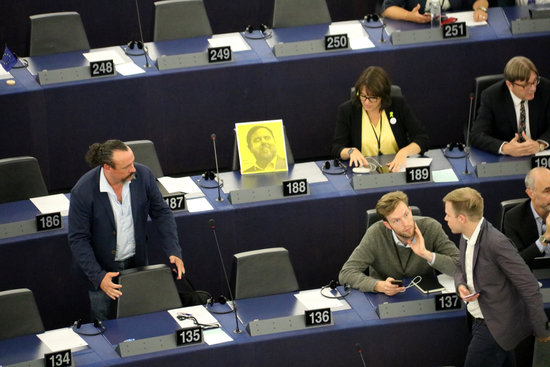 In today's European Parliament debate regarding the next president of the European Commission, the question of Catalan independence was raised, with both a call for dialogue and a call for Spanish unity voiced.
Ursula Von der Leyen was the candidate up for debate to replace Jean-Claude Juncker in today's plenary session and her bid was successful by a slight margin. The outgoing German defense minister heard from the European Free Alliance (EFA) and the European People's Party (EPP) on the topic of Catalan independence.
Mediating in Catalan conflict
Alyn Smith from the EFA has called on the future Commission president von der Leyen to be an "honest broker" in the Catalan affair.
Taking advantage of the debate with the German at the plenary, Smith emphasized that the chamber is not "complete" on account of the absence of jailed group member Oriol Junqueras, and exiled Catalan leaders Carles Puigdemont and Toni Comín.
Smith also pointed out that "the only solution will be dialogue," and stated that he hoped Von den Leyer would play this role.
Defending "unity of Spain"
On the other hand, the leader of the EPP, Esteban González Pons, expressed his confidence in Ursula von der Leyen on Tuesday as the president of the European Commission.
"I am sure we count on you to defend the Spanish rule of law and the unity of Spain," he told the candidate during the debate.
According to González Pons, the people share "their faith in the rule of law and the primacy of the constitutions" with her, and they endorse this message because it comes from his EPP, the party "that has won the elections."