Electoral authority 'had no right' to order banner's removal, president claims in court
Quim Torra admits he "disobeyed" but says official instruction to take down symbols supporting jailed leaders was "illegal" and contravened freedom of expression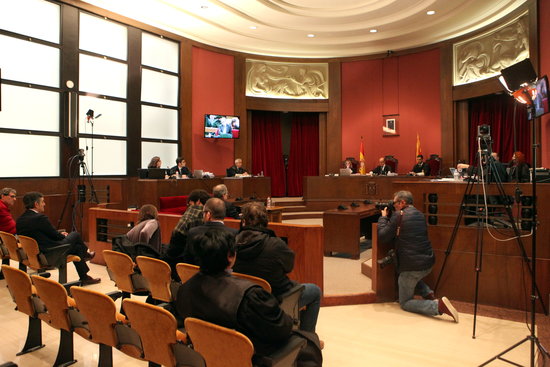 As Quim Torra faced disobedience charges in court on Monday for not complying with an order to remove 'partisan' symbols from government HQ before the April election, the president argued that the electoral board "had no right to issue such an order."
Torra went on to admit to the court that he had "disobeyed" Spain's electoral authority by failing to remove a banner in support of jailed pro-independence leaders, but he added that "complying with an illegal order was impossible."
The row that has put the first Catalan president in the dock since the Franco regime tried Lluís Companys in 1940, goes back to the run-up to the April 28 general election, when the electoral authority ordered Torra to remove a banner it considered political.
Torra addressed that aspect of the accusations against him on Monday, denying that the expression 'political prisoners' that featured on the banner is partisan, arguing that "it is a way of speaking allowed by freedom of speech."
Torra refuses to answer Vox prosecutor
The president's court appearance began with Torra refusing to answer any questions from the far-right Vox party, which is acting as a public prosecutor in the case: "Vox is a Francoist party, this country suffered 40 years of fascist dictatorship," he said.
Torra risks a ban from public office if found guilty of disobedience for not removing the banner supporting the leaders recently jailed for the 2017 independence bid, but in court he argued that the electoral board committed a breach of duty by issuing the order.