Health minister in favor of removing face mask requirement indoors ahead of key meetings
Josep Maria Argimon believes lifting measures in schools is especially "urgent"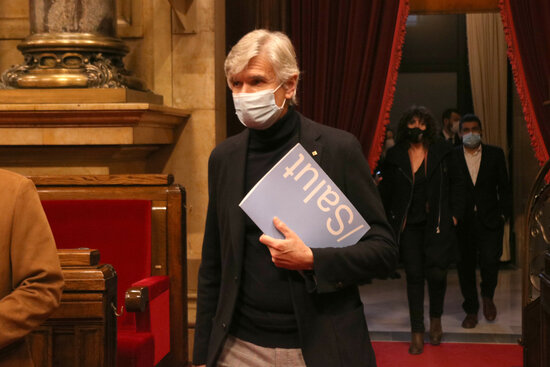 The Catalan health minister, Josep Maria Argimon, is in favor of removing obligatory face masks indoors soon.
Talking to the press on Thursday in Badalona, the official said that it is especially "urgent" to take the decision in schools, and regrets not having already persuaded Spain of removing them gradually in classrooms.
"What is coming is as big as or even bigger than the pandemic, so the normal thing to do would be normalizing our lives," he said, referring to the wave of refugees coming from Ukraine that are already arriving in Catalonia.
On Tuesday, 1,200 people from the eastern European country had already reached Catalonia, but Argimon believes that the figure could surge to 25,000.
While siding in favor of no longer using face masks indoors, he also said that "if things do not go well," loosening measures can also be undone.
The health minister made these comments ahead of key meetings where decisions about the last major Covid restriction still standing could be made.
On Thursday afternoon, the Spanish government's health authorities, along with regional governments, including Catalonia, will come together and a decision could be announced.
Also, this weekend the Spanish prime minister, Pedro Sánchez, will meet regional presidents in La Palma, one of the Canary Islands – after a U-turn, Catalan president Pere Aragonès will attend as the situation in Ukraine will be tackled.
One of the outcomes of the session could be a decision to further loosen face mask requirements indoors, a restriction which has been uninterruptedly in force since the beginning of the pandemic in 2020.
On February 10, face masks all over Spain were lifted after being in force since December 24, 2021, amid the sixth wave of Covid-19 – the same measure was also enforced in the outdoor spaces of schools on the very same day.