Former Catalan speaker accuses Spanish court of acting 'politically' ahead of independence trial
No public money used to fund referendum, says ex-minister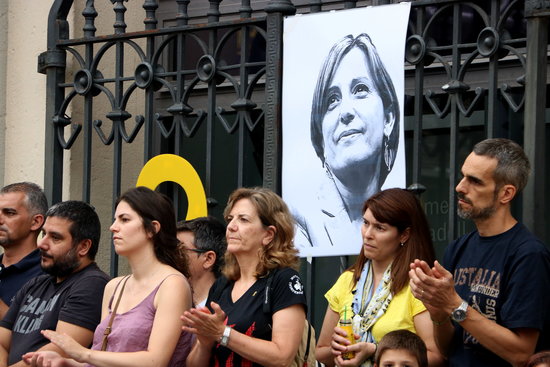 Carme Forcadell, the former speaker of the Catalan parliament, has denounced that she is being "criminalized" due to her role as a leading pro-independence activist, and accuses the Spanish court that will try her of being a "political actor."
In her statement of defense, made public on Wednesday, the politician maintains that she always abided by parliament rules—even when she allowed the chamber to hold a vote to separate from Spain following a referendum deemed as illegal.
Forcadell has been in pre-trial jail since March. Along with other pro-independence leaders, she is accused of violent rebellion and faces a prison request of 17 years by the public prosecutor.
Unlike other members of the Catalan parliament bureau at the time of the declaration of independence, however, the Supreme Court has rejected transferring Forcadell's case to a lower court. Forcadell's defense alleges that she's being "criminalized" for her role as an activist.
Forcadell was the president of the Catalan National Assembly from 2012 until 2015, becoming one of the most influential figures in the emergence of Catalonia's push for independence.
Santi Vila denies supporting unilateral path in statement
Former Catalan business minister Santi Vila also released his statement of defense on Wednesday—in it, he alleges he never backed a unilateral path to independence and denies that the October 1 referendum was paid for with public money.
Vila is accused of misuse of public funds for allegedly allocating money from the administration to pay for the referendum, along with other former government members. He is facing seven years in prison, 16 years barred from office, and a €30,000 fine.
Vila is the only former minister to have stepped down from his post on October 26, in disagreement with a then-impending declaration of independence that would happen the very next day.