Far-right events with neo-Nazi symbols held to mark Spanish Constitution Day
Tension as Vox rallies are faced by antifascists, while Barcelona local council will report them before hate crimes prosecutor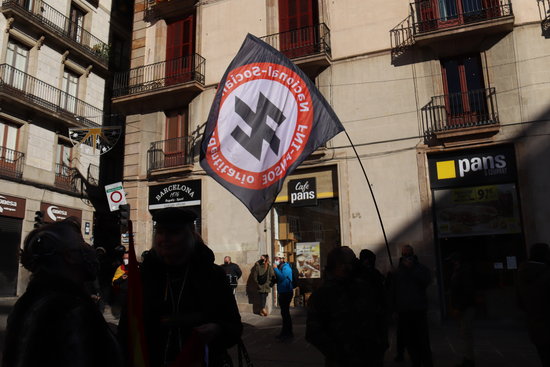 Several events organized by far-right Vox party were held in some of Catalonia's main cities, including Barcelona, Lleida, Girona and Tarragona on Sunday, to mark the 42th anniversary of Spain's Constitution.
The political rallies, where neo-Nazi and fascist symbols were seen, were met by anti-fascist groups like pro-independence CDR willing to protest against them. The Catalan police had to intervene in Barcelona and Girona to make sure both sides were kept off.
Some tension was witnessed near the capital's Plaça Sant Jaume, where some of the 150 antifascists protesting threw some objects to the police, who prevented them from entering the square and meeting the around 200 Vox members who attended the political rally.
The president of the far-right political force at a Spanish level, Santiago Abascal, took the floor during the event to say that "the coup d'etat in Catalonia continues," referring to the independence push.
Some of the attendees gave the Nazi salute repeatedly and flags of neo-Nazi groups were waived, including that of National Identity Front – Workers' National-Socialist Spanish Party (FNI-PNSOE).
Hate crime to be reported
After the event, Barcelona's mayor, Ada Colau, informed on Twitter that her local administration would take the rally to the hate crimes prosecutor. "One thing is freedom of speech. A different one is the exaltation of fascism and Nazism," she wrote.
Catalonia's home affairs minister, Miquel Sàmper, said that the police is already gathering information for a report to be sent to the same prosecutor. "The democratic institutions cannot leave any room to acts against law such as defending fascism, thus surpassing the limits of freedom of speech," he tweeted.
These events come just a few days after messages of several former high-ranking members of the Spanish Air Force in a WhatsApp group were leaked, including one saying: "There is no choice but to start shooting 26 million sons of bitches."
Other pro-Constitution events
Elsewhere other unionist parties also held unrelated events to mark the carta magna's anniversary, such as Ciudadanos.
Inés Arrimadas, its president, was also in Barcelona to announce that her party will send an issue of the Constitution to every pro-independence local government in Catalonia. "Those who intend to split up our country will have his Christmas present from a liberal party that defense equality and respect to our common law," she said.
Meanwhile, the People's Party president, Pablo Casado, took part in a cross party event to mark the day in Madrid, along with the Spanish governing parties PSOE, Unidas Podemos and other unionist parties, but none of the Catalan pro-independence forces.