Exiled former Catalan minister picks up MEP credentials
Clara Ponsatí collects EU parliament accreditation in Brussels, despite Spanish authorities asking UK to prevent her from leaving Scotland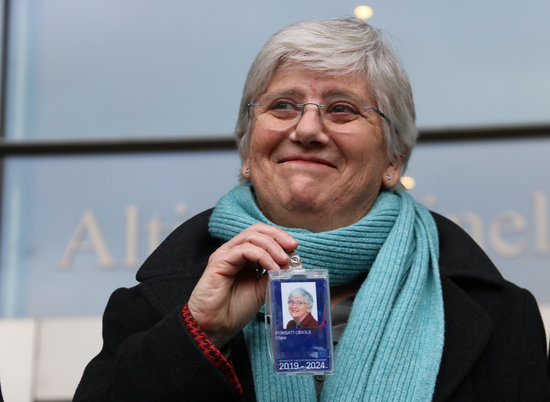 Clara Ponsatí, the former Catalan education minister now in exile in Scotland, collected her credentials as an MEP in Brussels on Wednesday, despite the Spanish authorities requesting that the UK prevent her from leaving the country.
Ponsatí joins the exiled former Catalan president Carles Puigdemont and former health minister Toni Comín in the European Parliament, despite the efforts of the Spanish judiciary to extradite them over the independence bid in Catalonia in 2017.
Ponsatí works at the University of St Andrews in Scotland, where the former education minister went following the failed independence bid, and is currently fighting extradition with the full hearing of her case expected to start in Edinburgh on May 11.
Despite threats from Spain's electoral commission that her seat would be declared vacant, the EU parliament recognized Ponsatí as an MEP after the UK officially left the European Union on January 31 and five of its seats in the chamber went to Spain.
As with Puigdemont and Comín, her MEP status gives her immunity from arrest, although the Spanish judiciary has asked the parliament to waive the legal protection on the grounds that it no longer extends to Britain now that it has left the EU.
Speaking in Brussels after collecting her MEP credentials, Ponsatí said she was looking forward to this "new personal challenge," and promised to "follow the orders of the judges" in Scotland when asked about her upcoming extradition case.