Can a jailed Catalan leader become MEP? Judges open door to asking EU's top court
Spain's Supreme Court admits appeal from former vice president's defense to consult Court of Justice on immunity issue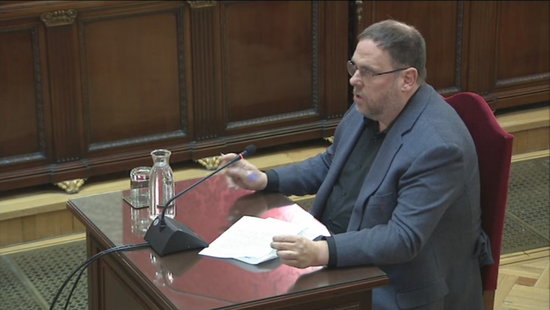 Spain's Supreme Court has opened the door to asking the European Union's Court of Justice whether Oriol Junqueras, a jailed Catalan pro-independence leader, should be allowed to become MEP after winning a seat in May's European election.
Junqueras, former vice president of Catalonia and leader of the Esquerra party, was not granted permission to leave jail to take the oath of office in Madrid — a formality that prevented him from taking up his seat in the European Parliament.
Junqueras is one of a number of former Catalan government officials and activists currently awaiting a verdict after being tried by the Supreme Court for their part in the failed independence bid in Catalonia in 2017.
On Tuesday, the court admitted an appeal from Junqueras' lawyer to consult the EU high court, establishing a three-day deadline for all parties to present their arguments on whether the enquiry should take place and what it should consist of.
The appeal from Junqueras' lawyer came after the Supreme Court upheld the prosecutor's objections to the former vice president leaving jail to attend the ceremony that would allow him to take up his seat in Brussels.
The legal argument revolves around how far the right to immunity of MEPs extends, with Junqueras' lawyer arguing that his client enjoyed immunity from prosecution from the moment he was elected to the European Parliament.
However, the prosecutor says that immunity is only applicable once individuals have gone through all the procedures required to take up their seats, culminating in Strasbourg on July 2 with the first plenary session of the new EU term.
Former Catalan president Carles Puigdemont and his former minister Toni Comín, who are both in exile, are in a similar position, with the seats of all three of the new MEPs declared vacant by Spain's electoral authority.
Conversation with former Spanish president
Meanwhile, José Luis Rodríguez Zapatero, who was President of Spain between 2004 and 2011, told RAC1 radio station on Tuesday that he briefly spoke to Junqueras over the phone before the trial in the Supreme Court began.
Rodríguez Zapatero said Junqueras argued for dialogue on the independence issue, declaring himself an "advocate for dialogue and understanding." The former president added that he would speak to Junqueras again should the opportunity arise.