Definitive electoral lists disregarding disqualified leaders published
Following the 2017 referendum verdict, independence leaders cannot run in the November 10 general election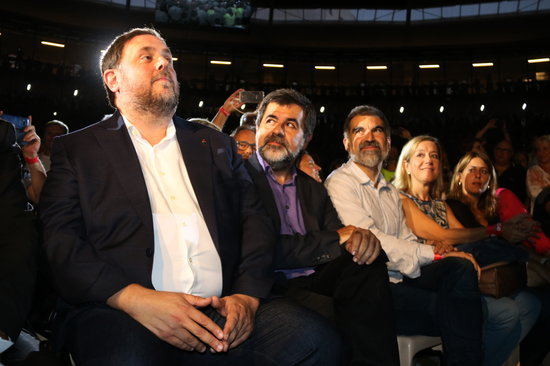 Spain's electoral authority has published the definitive list of candidatures for the November 10 Spanish Spanish election in the Official State Gazette.
The list has taken into account the disqualification of the political leaders convicted of sedition and in some cases misuse of funds in the Catalan trial on Monday.
The parties affected are pro-independence groups Esquerra and Junts Per Catalunya, after it was ruled on Monday that the convicted politicians ''must be disregarded'' from the elections.
The Electoral Authority had given a deadline for making the substitution, and since the parties have not done this they have simply published the list without the disqualified leaders, whose places have been taken automatically.
Thus for Esquerra, with Oriol Junqueras absent for Congress and Raül Romeva for Senate, Gabriel Rufián and Mirella Cortès are now the frontrunners.
Junts per Catalunya are without disqualified candidates Jordi Sànchez, Joaquim Forn, Jordi Turull and Josep Rull, who headed the lists for each of the Catalan regions. Party number two for the Barcelona constituency, Laura Borràs, has been listed as the number one candidate.
Disqualification for up to 13 years
The duration of disqualification equates to that of the prison sentences of the leaders. However, because they were eligible until the verdict was released on Monday, they will only be eligible two years after the end of their prison sentence.
Oriol Junqueras therefore will not be eligible until late in 2032, having received a sentence of 13 years behind bars. His prison sentence will end 24 months prior in 2030, having already spent two years in provisional detention after the referendum. Raül Romeva, who received 12 years in jail, will not be eligible until 2031.
For Junts per Catalunya sentences, Jordi Turull will become eligible again at the same time as Romeva in 2031. Joaquim Forn and Jordi Turull will both be able to run as of early 2030, having got 10 and a half years each. Finally, Jordi Sànchez will be disqualified until 2028, having received a 9-year sentence.