Court orders suspension of six jailed and exiled leaders as MPs
Politicians prosecuted for rebellion, including former president Puigdemont, told to give up seats until verdict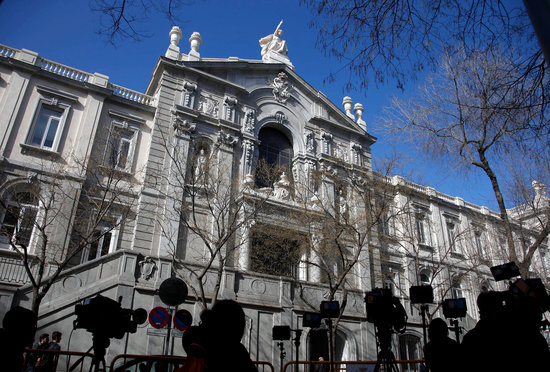 The Spanish Supreme Court has ordered the suspension of six jailed and exiled pro-independence leaders from any public office.
They are all MPs in the Catalan Parliament, so that would mean them having to give up their seats while waiting for a verdict.
The prosecuted leaders affected by the measure taken on Tuesday include former Catalan president Carles Puigdemont, former vice president Oriol Junqueras and three former ministers.
The Spanish Penal Code cites that if an individual is prosecuted for terrorism or rebellion and has a detention order hanging over them, they can be suspended from public office while waiting for a verdict.
Inquiry closed
On Tuesday the Supreme Court officially closed the inquiry for the case, which was a prerequisite to enforce this provision of the Penal Code.
According to the law, the suspension is effective immediately, and the judge will have to inform the Catalan Parliament of his decision.
Along with Puigdemont and Junqueras, the decision affects former ministers Raül Romeva, Jordi Turull and Josep Rull, and former grassroots pro-independence leader Jordi Sànchez, all of whom are currently in pre-trial jail.
The other MP prosecuted for rebellion and facing a detention order is Toni Comín, the former Catalan Health chief. Because he can still appeal his indictment, Comín is not included in the list, but his likely appeal is expected to be rejected. Thus, when this happens, he will also be stripped of his post as MP.
Catalan Parliament
It remains to be seen whether the Catalan Parliament will contest the judge's decision. If, in the end, these politicians are barred from their seats, the pro-independence parties would lose their majority in the chamber.
This, unless they are replaced by other MPs. The order issued by the judge gives the opportunity for other individuals to temporarily replace them if the chamber allows so. Therefore if they were not sentenced to disqualification from public office, they might be able to return to their posts.
"Altering parliamentary majorities"
The Catalan government spokeswoman, Elsa Artadi, commented on this possibility shortly before it was confirmed. She said such a decision seeks to "alter the parliamentary majorities."
Artadi also said that the chamber is to decide how to react to the judge's decree.