Catalan politics holds breath ahead of uncertain Junts internal vote to stay in cabinet
Decision of junior coalition partner members to be announced on Friday after high turnout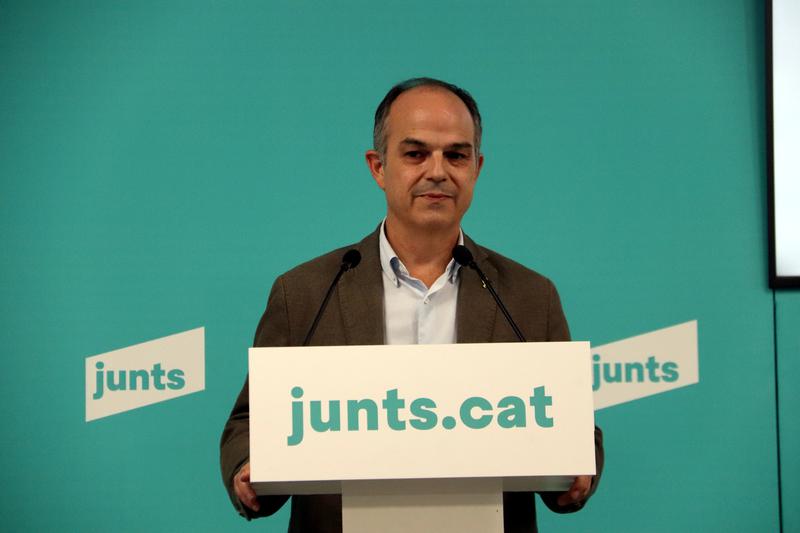 Catalan politics is holding its breath ahead of the result of an internal vote of junior coalition partner Junts members on whether to stay or exit government.
This move is thought to be the turning point of a government crisis that has been escalating since the beginning of last week.
The underlying reasons for the clash are the different paths both mainstream parties want to pursue in order to achieve independence for Catalonia.
While Junts want to continue the path of confrontation with Spain that peaked in 2017 and calls for exercising "the mandate of the 2017 referendum," senior coalition partner Esquerra prioritizes talks with Spain in order to persuade Madrid to agree on a referendum like Scotland did in the 2010s with the United Kingdom.
Junts' consultation began on Wednesday at midnight into Thursday and will come to an end on Friday at 5pm.
Shortly afterward, at 5.30pm, the party leadership will meet at its headquarters in Barcelona and it is expected that at some point in the evening, a press conference is held to announce the results.
The turnout in this internal vote is expected to be high, since on Friday at noon, 73% of the 6,465 eligible members had already cast their ballot.
The results are highly uncertain, since high-ranking officials are divided on whether to stay or go.
Leadership divided
For instance, party president Laura Borràs has sided in favor of breaking the coalition, while most Junts ministers – except for universities minister Gemma Geis, who is against, and health minister, Josep Maria Argimon, who did not take sides – are in favor.
Secretary general Jordi Turull has avoided taking sides on whether he supports remaining or exiting cabinet.
Carles Puigdemont, founder of the party and former president of Catalonia during the 2017 independence push, has not explicitly stated his opinion, but most of his closest confidants within the party are for leaving, while he has also retweeted an article from party vice president Josep Rius on digital newspaper El Punt Avui titled, 'Yes to Junts, yes to independence, no to this government.'
Other senior figures among the party that opt for leaving in the executive include Jordi Puigneró, who was fired as Catalan vice president last week, exiled MEP Toni Comín, current research and universities minister Gemma Geis, Girona mayor Marta Madrenas, Albert Batet, Joan Canadell, and Jaume Alonso-Cuevillas.
Other senior party members who have positioned themselves on the side of remaining in government are former jailed independence leader Quim Forn, former jailed independence activist Jordi Sànchez, former interior minister Miquel Buch, Barcelona port president Damià Calvet, former Barcelona mayor Xavier Trias, Barcelona councillor Neus Munté, and MP David Saldoni.
Government crisis
The current crisis began last week, when the Catalan president, Pere Aragonès, of the senior coalition partner Esquerra Republicana, fired his vice president, Junts' Jordi Puigneró as his number two after a day of crisis talks both within and between the two parties. The president took this decision citing a loss of confidence in his second-in-command in cabinet after Junts suggested a motion of confidence in the head of government on Tuesday night during the general policy debate.
Junts then set Aragonès a deadline of Sunday to reach an agreement on the conditions to stay in the executive, but at the same time announced an internal vote for this Thursday and Friday where their members will be asked whether or not they should stay in the coalition or leave.