Junior partner Junts will ask members whether they should exit cabinet on October 6-7
Party gives senior ally Esquerra until Sunday to negotiate conditions to stay in government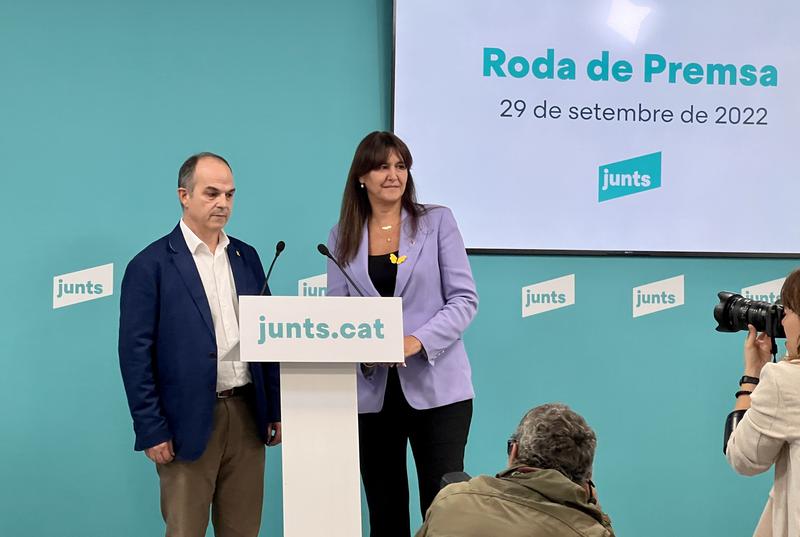 Junts per Catalunya, the junior partner in the Catalan coalition government, will have party members vote to decide whether they should leave the cabinet they share with fellow pro-independence Esquerra on October 6 and 7.
Yet, the party is also giving the Catalan president, Esquerra's Pere Aragonès, until Sunday to negotiate conditions for Junts to stay in government. The vote will take place regardless of the results of this negotiation.
Specifically, Junts wants concrete answers from Esquerra on what it considers to be three key points: strategic unity, amnesty and self-determination, and coordinated action in Madrid.
In a press conference on Thursday evening after the party leadership's eight-hour meeting, Junts' secretary general, Jordi Turull, and president, Laura Borràs, announced that they will determine the question they will ask their members on Monday after the deadline they have given Esquerra has passed.
"Our leadership will meet again on Monday and decide the question then," Turull said, suggesting that what will happen this weekend will directly impact their approach to the internal vote.
"We are not happy or proud of how we got here," Turull said. "But when there's a problem, you have to concentrate on fixing it."
Catalan government crisis
Esquerra and Junts, while both in favor of independence, have frequently been at odds with each other, with the senior partner favoring dialogue with Spain over direct confrontation and the junior partner taking a more hardline approach.
These differences have been apparent with, for example, Esquerra's position regarding suspended parliament speaker and Junts president Borràs, who faces corruption charges, as well as the senior partner's decision not to attend the annual National Day pro-independence rally for deeming it to be more anti-Catalan government than against Spain.
But the crisis escalated further in recent days with Junts threatening to ask for a motion of confidence if the conditions of the coalition deal that put Aragonès in power were not complied with during the general policy debate in parliament on Tuesday and the president responding by sacking vice president Jordi Puigneró, Junts' highest-ranking government official late on Wednesday night.
The president explained that he had "lost confidence in Mr. Puigneró" as he had not informed him of potential plans to ask for a motion of confidence, which unlike a motion of no confidence can only be called by the head of the executive.
"The sacking of the Catalan government's vice president Jordi Puigneró pains me, but it was a necessary step to strengthen the executive," he said.
Junts, on the other hand, described this move as a "historic mistake" before announcing plans to give Esquerra until Sunday to try to reach an agreement and to have party members vote on their future in the cabinet next Thursday and Friday. The party also stated on Thursday evening that they would not propose a replacement for Puigneró as Aragonès had asked.
The ongoing disagreements between Junts and Esquerra have become fodder for the opposition. On Thursday alone, Barcelona mayor Ada Colau, of anti-austerity Barcelona en Comú, asked them to "please put an end" to the "this circus, this melodrama."
Aragonès: Junts should be clearer
Sources close to the president say Aragonès believes Junts should be clearer about whether they want to stay in the coalition or leave the cabinet to join the opposition.
These same sources say the president has not stated whether he thinks they will have enough time to negotiate before the deadline set by Junts as he has not yet been informed of their proposals and that he believes the party should have made mention of their vote of confidence threat in the press conference.