Junts threaten motion of confidence if presidency investiture agreements not met
"We cannot continue like this," JxCat spokesperson says after Aragonès announces Quebec-style referendum proposal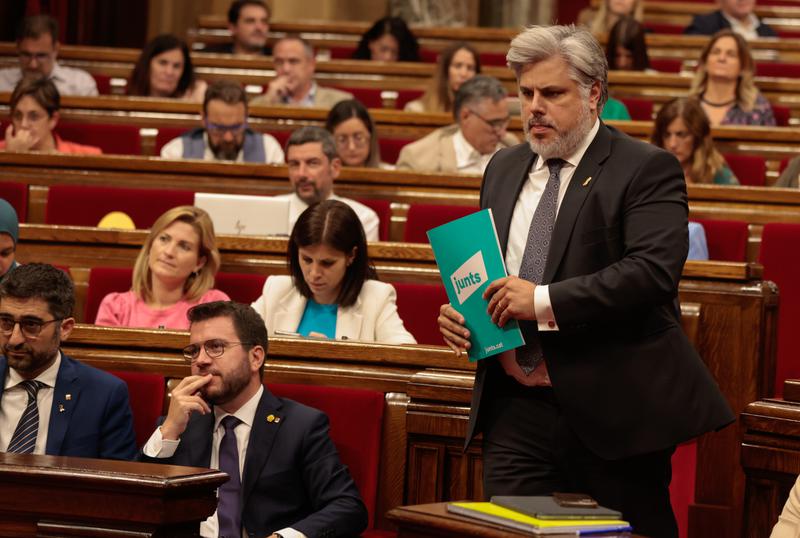 Albert Batet, spokesperson for Junts per Catalunya, the junior coalition partner in the government of Catalonia, made it clear to president Pere Aragonès that his party wants to see the investiture agreements complied with, or else Junts could ask the head of government to undergo a motion of confidence.
In the weeks building up to the general policy debate, many voices within the Junts party were raising the possibility of abandoning the government. A high-profile crisis meeting between leaders of each party in mid-September led to no agreement, and Junts want to see a clear pathway toward achieving both parties' stated goal of creating an independent Catalonia.
Albert Batet's speech as part of the general policy debate on Tuesday struck a firm tone against the president, as the Junts spokesperson repeatedly underlined the importance of complying with the investiture agreements which saw Aragonès named president in May 2021.
The day opened with the announcement from president Pere Aragonès that he would propose a Quebec-like agreed pathway toward a referendum with Spain, based on building a wide majority of support in Catalan society. However, this proposal was quickly discarded by the Spanish government, and was met with skepticism and rejection by opposition parties in the Catalan chamber.
"If there are no guarantees [that the investiture agreement is complied with], because of democratic values, we will, and only if these guarantees are not achieved, we'll ask for the president to undergo a motion of confidence in the Catalan parliament," Batet warned. "We cannot continue like this."
The main points of the investiture agreement that Junts want to see complied with are "a strategic path towards independence, institutional coordination with Madrid, and the dialogue table [with the Spanish government on independence,]" as Batet explained. "We need a response to this."
Batet recognized the "good will" of Aragonès to resolve the situation, but believes that it is insufficient: "good will is not enough."
Batet had also spoken about the optimism that the pro-independence movement experienced five years ago as Catalonia prepared for the October 1, 2017 referendum, which was deemed illegal by Spain and ultimately failed to deliver a Catalan republic.
"We won [the referendum in 2017] because we had a shared objective that was the referendum, with a joint roadmap and the chain of confidence in [former Catalan president Carles] Puigdemont was real," Batet said in the chamber.
"A year and a half later, it's clear that the investiture agreement is not being upheld," Batet said.
"Junts per Catalunya has solemnly and unanimously told you, president Aragonès, that we cannot continue like this. So, president Aragonès, I ask you right now, clearly and directly. Will you, the president and the one who has the responsibility, comply with the investiture agreement?"
Aragonès replies
In a clear reference to Junts' threat, Aragonès responded saying he "will not get involved in any game that puts Catalan institutions at risk."
The president mentioned the uncertainty that surrounded the administration led by his predecessor, Quim Torra, who was barred from holding public office when he was convicted of disobedience for hanging signs and symbols deemed partisan from public buildings during an election period in 2019. Aragonès also described this disqualification as "unjust."
"We all have responsibilities, and I have been clear in my responses to the political groups in this chamber. However, from this point, there are some decisions that do not rely on me," he said, before adding that these decisions "should be taken with the stability of institutions in mind."
"As a result of the unjust disqualification of my predecessor, we went through months of an acting president and the country paid the consequences," Aragonès warned.
"For this reason, I won't get involved in any game that generates instability in institutions."