Catalan government seeks supports as budget vote uncertain
Pro-independence parties could get bill approved by backing political rivals in Barcelona and Spain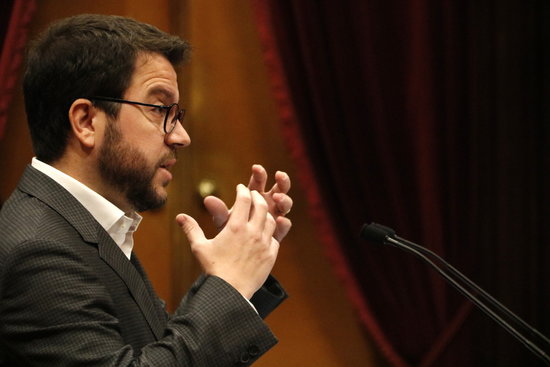 Three crucial budgets are still up in the air as the time to vote for or against them looms ahead: those of Catalonia, Barcelona, and Spain. And they all depend on an unlikely political alliance between pro-independence parties and left-wing forces.
"We'll contact all political groups in the coming weeks, starting the next one, to explain the budget and break down the numbers," said Catalan vice president Pere Aragonès, in the run-up to the vote.
After securing a slim parliamentary majority in the last election, the pro-independence government was set to approve its financial plan without much trouble.
This, before the Spanish Supreme Court suspended former Catalan president Carles Puigdemont and a number of MPs prosecuted for organizing a referendum on independence, thus forcing the Catalan government to seek support from non-pro-independence parties.
All eyes are on Catalunya en Comú-Podem (CatECP), a left-wing coalition that has positioned itself as neither for, nor against independence. Its leader, the mayor of Barcelona Ada Colau is planning to meet with the Catalan president to work out a compromise that could, in turn, grant her the votes she needs to pass a budget for the capital of Catalonia.
"Having a budget that guarantees basic services is positive, for Catalans both for, and against, independence," said Colau. "And this is compatible with demanding an end to the pre-trial incarceration [of pro-independence leaders]."
With nine Catalan leaders in pre-trial jail for their role in the independence bid, Colau has been one of the few non-pro-independence politicians that repeatedly called for their release.
The CatECP coalition includes the Catalan branch of Podemos, the main political ally of Spain's Socialist government. After having reached a compromise on the financial plan for 2019, the Socialists and Podemos now need the votes of pro-independence parties in the Spanish Congress to approve it.
The Catalan president recently withdrew his support from the Spanish government following new developments in the case against pro-independence leaders. Yet, the Socialist executive still hopes Torra will change his mind.
"We're on the path to solve this conflict, and if pro-independence parties are clever they'll take advantage of it," said Isabel Celáa, the spokesperson for the Spanish government.
CUP accuses government of past "blackmail"
Meanwhile, pro-independence and far-left party CUP has already ruled out backing the bill. Last year, they only voted the bill because the government pledged to defy Spain and hold an independence referendum.
"We backed your budget after you blackmailed us. This will never happen again. Let that be very clear," said Maria Sirvent, a CUP MP, in response to Aragonès.