Carles Puigdemont elected JxCat president with 99.3% of votes
Political party officially formed two weeks ago elects various figureheads and National Executive members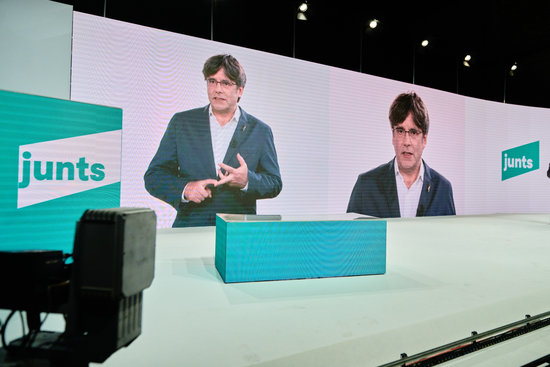 Carles Puigdemont has been elected as the new president of Junts per Catalunya with 99.3% of the votes of the members, while Jordi Sànchez will be the general secretary of the group with 94.23% of the backing.
The four vice-presidencies will be occupied by Jordi Turull (93.47% of the votes), Elsa Artadi (88.12%), Anna Erra (79.15%), and Josep Rius (73.66%).
Junts per Catalunya officially formed as a political party on July 25, despite currently being in government in Catalonia but as an electoral alliance, in coalition alongside Esquerra Republicana.
David Saldoni has been elected the new secretary of organization and Teresa Pallarès will be the secretary of finance.
A total of 2,130 members took part in these elections - 56.19% of the census - which were held electronically. In the elections, only one candidate competed for the presidency and position of general secretary, as well as for the rest of the executive.
Carles Puigdemont has been in exile since 2017 followed the independence referendum, while Jordi Sànchez and Jordi Turull have been imprisoned for their parts in the push for an independent Catalonia also since autumn of 2017.
National Executive members
The members have also chosen the other members of the National Executive - a total of 18 people - all of them with a support of more than 59%.
The new executive members elected with the most votes have are current MP in the Spanish Congress and former Catalan minister of culture, Laura Borràs, who won 92.82% of the support; MP in the Spanish Congress and until recently vice-president of PDeCAT, Míriam Nogueras, with 83.43% of the votes; the minister of territory and sustainability, Damià Calvet; and the mayor of Girona, Marta Madrenas, both with 82.86% support.
The executive is completed by Albert Batet, Gemma Geis, Aurora Madaula, Mònica Sales, Josep Andreu, Maria Àngels Cabasés, Violant Cervera, Francesc Colomé, Jordi Fàbrega, Joaquim Jubert, Toni Morral, Irene Negre, Marcel Padrós and Aleix Sarri.
Lluís Puig celebrated the elections and said that the formation was "on the right track" because they themselves said that the party should be built "on the basis of participation and internal democracy." He also called on the new members of the governing bodies "to work hard to build the party."