Belgian court to suspend or annul Puigdemont's arrest warrant on February 18
Former Catalan president and ex-minister Comín argue MEP immunity protects them from extradition, with hearings also pending for two other former officials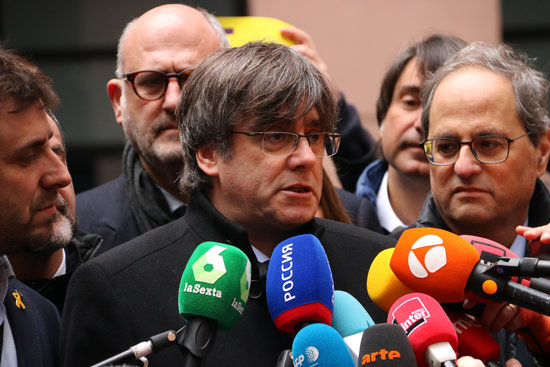 The issue of Spain's attempts to extradite former Catalan leaders who went into exile following the 2017 independence bid are gathering pace, beginning with the head of Catalonia's government at the time, Carles Puigdemont.
A court in Belgium will announce a decision on the extradition of the former Catalan president and his former minister, Toni Comín, on February 18, after the judges have decided either to suspend or annul the international arrest warrant for the men.
This was the result of a hearing on Monday, when the defense lawyers of Puigdemont and Comín argued that the parliamentary immunity that the two former Catalan officials now have as MEPs means that their warrants should be annulled.
However, the Belgian public prosecutor argued that the arrest warrant should simply be suspended while the European Parliament considers Spain's request that the chamber waive the immunity of the two MEPs.
Puig and Ponsatí
Another former Catalan minister, Lluís Puig, was also in court in Belgium on Monday, although his case was merely postponed until February 24. Puig's lawyer will argue that if the warrant is annulled it should also apply to his client, even though he is not an MEP.
As for former minister Clara Ponsatí, who is in Scotland, she also got immunity as an MEP after the Brexit deadline meant that some of the UK's seats in the European Parliament passed to other EU member states, including Spain.
However, the Spanish judiciary has called on the UK to continue with Ponsatí's extradition process, on the grounds that now that Britain has formally left the European Union, her immunity as an MEP no longer applies in Scotland.
As with Puigdemont and Comín, the Spanish judiciary has also requested that the EU chamber waive Ponsatí's immunity as an MEP, while her full extradition hearing is likely to begin in a Scottish court on May 1.