Barcelona Jews accuse mayor of 'anti-Semitism' after suspending ties with Israel
Israeli foreign ministry says decision backs extremists and terrorist organizations, while Palestinians welcome move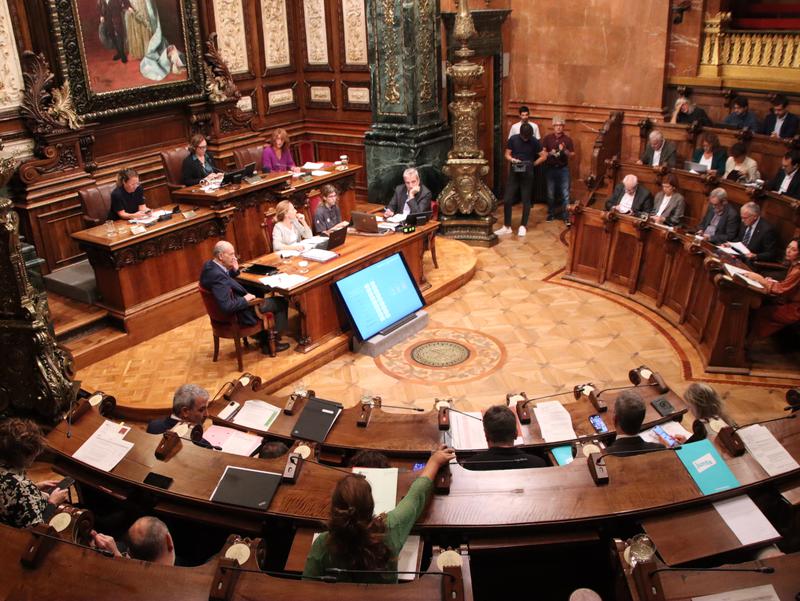 Israeli and Jewish community members accused Barcelona mayor Ada Colau of practicing "sophisticated anti-Semitism" after temporarily suspending ties between the Catalan capital and Israel on Wednesday night.
The Israeli community in Barcelona and the Spanish federation of Jewish communities "refuses and regrets" the announcement made "with the support of only 4,000 signatures, by decree and without any debate."
These communities claim the decision "does not represent what Barcelona nor its citizens means." They even have written to Ada Colau to express their "worry" as "pressure has been growing driven by the city council's campaign."
For the Jewish and Israeli communities, the mayor "did not consider" that Tel Aviv is an "example of coexistence" and that she is questioning the actions and the legitimacy of "the only Jewish country in the world."
It is time to "debate the problems" rather than taking "unilateral" decisions that "destroy the important task achieved until now between Barcelona and Tel Aviv's societies with an excellent result for both of them up to this day."
Israeli foreign ministry
In a Twitter thread written in Catalan, Spanish, and English, the Israeli foreign minister said he thought Colau's decision "gives support to extremists, terrorist organizations and anti-Semitism."
The decree approved by Barcelona's mayor is, he said, "an unfortunate decision that stands in complete contrast to the position of the majority of the residents of Barcelona and their representatives in the city council."
"The friendship between Israel and Barcelona is long-standing and is based on shared culture and values. Even this unfortunate decision will not damage this friendship."
Barcelona Hotels against decision
Jordi Clos, the president of the Barcelona Hotels' Association, said on Thursday that Colau's move did not make him "jump for joy."
"I don't know if it was the time for this or not, but these decisions must be made with many things in mind," he said, explaining that it would have a negative impact on tourism to the Catalan capital from Israel.
The Barcelona Tourism board had planned to travel to Turkey and Israel on a business trip this week but called it off following the earthquake.
Palestinians and Special Rapporteur welcome news
The Palestinian community in Catalonia welcomed the news, tweeting that it was "proud" and thanking the city they now call home as well as mayor Colau.
Francesca Albanese, the UN's Special Rapporteur on the situation of human rights in the Palestinian Territory occupied since 1967, called Colau's decision "courageous."
"It only takes 'one' courageous principled person/people, to start correcting a path of injustice & make history," she tweeted. "Upholding int'l human rights law can never be a wrong choice."