At least 70,000 expected at political event in Perpignan with Puigdemont on Saturday
Heavy security measures for pro-independence function with exiled former president and ministers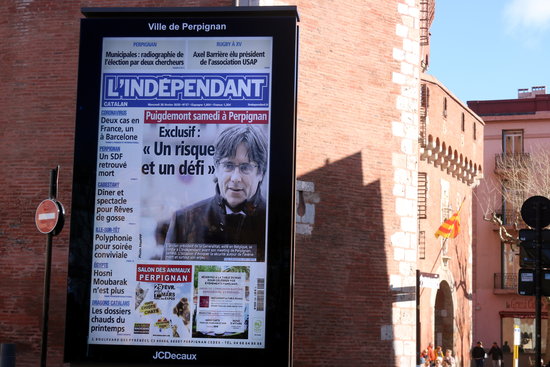 At least 70,000 people are expected to show up for the Council for the Republic's political event on Saturday in the southern French city of Perpignan, though organizers say there could even be up to 100,000.
Heavy security measures will be put in place at the venue as former Catalan president Carles Puigdemont and two exiled former ministers, Toni Comín and Clara Ponsatí, will also attend the pro-independence function taking place in the so-called Northern Catalonia and organized by the private organization.
All three former Catalan cabinet members, who left for Belgium and Scotland to avoid being tried in Spain for their roles in the independence referendum, are also MEPs, for which the organizers have stated that the event will "celebrate the victory of their parliamentary immunity."
The Council does, however, say it recognizes the "injustice" posed by the continued incarceration of former vice president Oriol Junqueras, who received the longest sentence of all nine jailed independence movement leaders for the 2017 vote.
"We must be encouraged by the fact that [Puigdemont, Comín, and Ponsatí] had had more luck than Oriol Junqueras, but we should also criticize the injustice of it," explained Carme García, one of the organizers, adding that Saturday will be important "both politically and emotionally" since the three will be returning to "Catalan soil."
583 buses to Perpignan
As for transport to the event from Catalonia, the head of the Catalan National Assembly, Elisenda Paluzie, has confirmed that there are already 583 buses set to take people to Perpignan, and two roads will be blocked off all day long on Saturday to allow them to park.
This far exceeds the number of buses taking people to pro-independence protests in the past, with 77 traveling to Strasbourg last summer, 214 to Brussels two months after the 2017 referendum, and the 421 – initially thought to be more - that went to Madrid last March as the movement's leaders were being tried in the Supreme Court.
Hotels in Perpignan and surrounding towns, furthermore, have already been fully booked for the past few days, meaning that getting around the area could prove to be much trickier than usual.