Arrimadas chosen to lead unionist Cs party
Head of Catalan branch of Cuidadanos between 2015 and 2019 wins 76% of vote in leadership election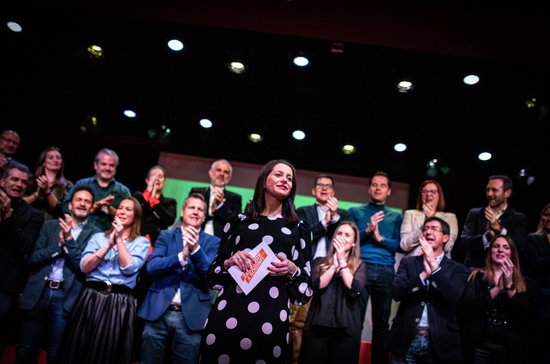 The unionist Ciudadanos party (Cs) has a new leader, Inés Arrimadas, who was chosen by 76.9% of the party's members ahead of her closest rival for the post, Francisco Igea, who won 22.3% of the votes.
The election of Arrimadas as party leader comes after Cs reached a deal with the also unionist People's Party (PP) to run together in the Basque Country election on April 5. The parties have also talked about standing together in the upcoming Catalan election.
In all, some 12,300 people voted in the leadership election, accounting for 59% of the party membership. Arrimadas will officially take up the post as party leader during Cs' general assembly on March 14 and 15.
Arrimadas replaces Rivera as party head
Arrimadas, who between 2015 and 2019 headed Cs' Catalan branch, replaces Albert Rivera, who stepped down in November after 13 years as party leader, following Cs' poor showing in the last Spanish general election.
On Twitter, Arrimadas thanked her party colleagues, saying: "I'll be the party leader of all the members and we will work tirelessly so that together we can return hope to millions of Spaniards."
Founded in Catalonia in 2006, Cs began contesting elections around Spain from 2013. Cs became the main opposition party in the Catalan chamber in the 2017 election, after winning 25% of the vote and 36 seats, and is strongly opposed to Catalan independence.
Vox re-elects Abascal as leader
Meanwhile, another party strongly opposed to Catalan nationalism, the far-right Vox party, re-elected its leader, Santiago Abascal, for another four years, at an assembly of the party leadership held behind closed doors in Madrid.
On Twitter, Abascal thanked his colleagues for their confidence in him "to lead the great patriotic alternative for another four years," pledging: "I will not fail you." Abascal became Vox leader in 2014, with the party gaining 52 seats in the last Spanish election.