Inés Arrimadas presents herself as a candidate to lead Ciutadans
Former leader Albert Rivera stepped down after party lost 47 seats in November 10 general election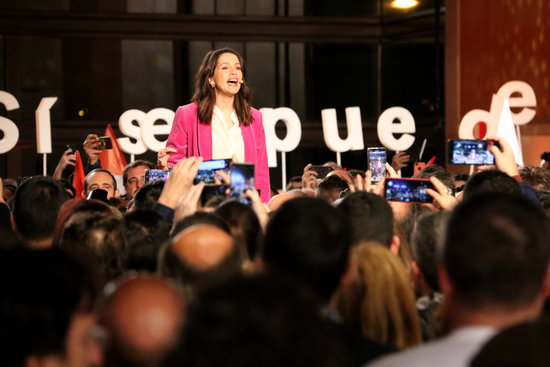 Inés Arrimadas, who headed Ciutadans' Catalan branch prior to Lorena Roldán's appointment to the post in July, has presented herself as a candidate to lead the party after Albert Rivera's resignation.
Rivera, the only president the party has seen since it was founded in 2006, stepped down from the helm on November 11, the day after Spain's snap election in which his party suffered a dramatic loss of congressional seats from the 57 it had obtained in the April 28 election to a mere 10.
In an interview with the Antena 3 television network, Arrimadas maintained that she was "strong" and "brave" enough to take on the challenge of heading the party.
Arrimadas also stated that she "had a broad-based support within the party" and was confident that she would be elected to lead it in the party's upcoming extraordinary congress, claiming that they would "lift the party up" because "there are many Spaniards who wish to return to Ciutadans."
Arrimadas was at the head of the Catalan branch of Ciutadans when it won the greatest number of votes in the December 2017 Catalan election, just months after the independence referendum, although she ended up leading the opposition as she did not obtain enough support in the Catalan parliament to become president.