Unionist Cs leader Albert Rivera steps down after dramatic loss
Party that won Catalan election in 2017 fell from 57 to 10 seats in Spanish vote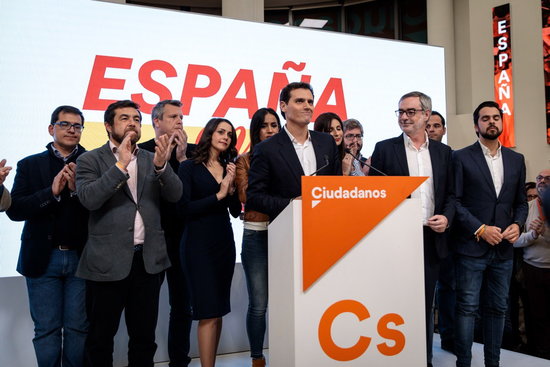 Spain's election has already claimed its first major victim: the leader of unionist Ciutadans party, Albert Rivera, stepped down on Monday at noon after his party suffered a dramatic loss in the Spanish vote on Sunday.
Ciutadans fell from 57 to 10 MPs in the Spanish congress, with their support dropping from 15.86% to 6.79% in only six months after the inconclusive April 28 general election.
In Catalonia, the party dropped 3 seats and got only 2 MPs, with support at 5.61%.
In a statement on Monday in Madrid, Rivera announced that he was quitting as his party's president "for responsibility." What's more, he said that he will not take up his seat in congress: "I can't be an MP only for a payslip."
Rivera also informed that he is quitting politics altogether. "Life is much more than politics", he said, adding that he has been "very happy" while being a politician, but now wants to spend more time with his family and friends. "Life goes on," he added.
The leader of Cs also wished luck to "those who will have to take decisions" in the party from now on. It is expected that Ciutadans will hold a congress in the near future to pick their next chief.
Rivera's political career
Albert Rivera has been the president of Ciutadans ever since it was founded in Catalonia in 2006.
His party made its breakthrough in 2006 obtaining 3 seats in the Catalan parliament, and started an upward trend until it won the Catalan election in 2017 with 36 MPs – yet this was not enough for them to gain the presidency, as pro-independence parties got the majority of seats.
In 2015, Rivera moved to Madrid and took part in the congress vote for the first time in Spain, reaching 40 out of 350 representatives. The upwards trend peaked at 57 MPs in April 2019, but on November 10, it dramatically dropped to its all-time worst in Spain.
Parties react to Rivera's resignation
One of the first reactions to Rivera's resignation came from the head of the conservative People's Party (PP), Pablo Casado, who said he "regretted" the decision. In a tweet, the PP leader described Rivera as "a great politician and a patriot who defended freedom."
Fellow unionist and head of the Catalan Socialists, Miquel Iceta, said it was not a day to take advantage and that "there's nothing sadder than after an election when something has gone badly for someone to see other parties taking advantage of the situation."
Yet, MP in Congress for the pro-independence Junts per Catalunya party, Laura Borràs, focused on the collapse of Rivera's party, which she said "was born with the purpose and intention of destroying anything to do with Catalonia, and now it has been destroyed."
Fellow pro-independence party, Esquerra Republicana (ERC) also pointed to Cs results, with spokeswoman, Marta Vilata, saying they "proved" there is more support for ERC's stance than that of Cs, and added "we're happy the ballot boxes have spoken so clearly."
As for left-wing En Comú Podem's head in Congress, Jaume Asens, he said Cs poor showing and Rivera's resignation is because "they bought into the far right's mental framework," and warned "if you wave the flag of hate" the risk is "someone will surpass it."