50 international figures sign manifesto calling for amnesty for independence leaders
Dilma Rousseff, Yoko Ono, Ai Wei Wei, and five Nobel prize winners among supporters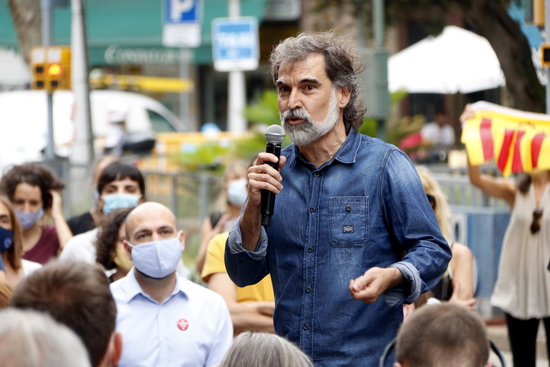 Òmnium Civil Rights Europe, the Brussels branch of one of Catalonia's main pro-independence organizations, published a manifesto on Monday calling for an amnesty for the jailed, exiled and prosecuted 2017 referendum organizers and independence push leaders that is backed by 50 international figures.
Calling referendums like those that took place in Quebec and Scotland "the best way to resolve political conflicts of this nature," the signatories of the 'Dialogue for Catalonia' manifesto urge "the Spanish government and its Catalan counterparts to enter into unconditional dialogue in order to find a political solution enabling the citizens of Catalonia to decide their political future."
The manifesto, which was expected to be published by The Washington Post and The Guardian, explicitly argues against the use of courts "to resolve a political crisis." Catalonia's nine imprisoned independence leaders, including Òmnium president Jordi Cuixart, were sentenced to up to 13 years in prison for sedition in October 2019 for their role in the 2017 vote deemed illegal by Spain. These activists and politicians remain behind bars despite calls from the UN's Working Group on Arbitrary Detention and human rights groups, something the manifesto contends "only further entrenches the conflict."
"For dialogue to succeed, political repression must end, and there should be an amnesty for those prosecuted," they say.
Among the manifesto's signatories are famous international figures such as Dilma Rousseff, the former president of Brazil; Irish politician Gerry Adams, key to the Northern Ireland peace process; Chinese activist and artist Ai Wei Wei, currently in exile in Germany, or Japanese artist Yoko Ono.
Five Nobel Prize winners are also in favor of an amnesty: Shirin Ebadi, an Iranian political activist and lawyer; Argentine pacifist Adolfo Pérez Esquivel; Jody Williams, a US anti-landmines activist; Mairead Maguire, an Irish peace activist, as well as Austrian writer Elfriede Jelinek.
The full list of international figures and the manifesto can be seen here.
This latest call for an amnesty comes as pro-independence parties and organizations plan to present an amnesty bill in Spain's Congress on March 15, 2021, after the February 14 election.