Residents born between 1962 and 1971 can already book vaccine appointments
Those eligible will receive an SMS while older individuals within age group will be prioritized for now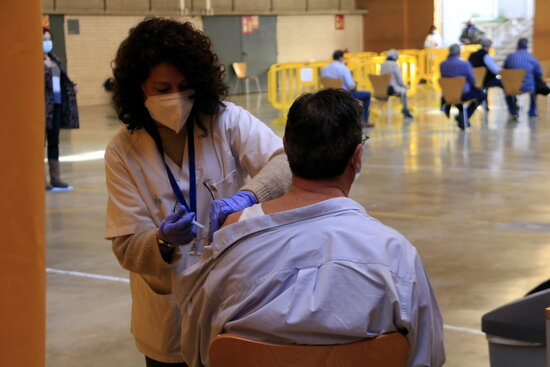 Article updated May 12, 2021
The Catalan health department is now allowing residents born between 1962 and 1971—that is to say, people in their fifties—to book Covid-19 vaccine appointments.
They will be given the Pfizer/BioNTech jab and the rollout will be staggered prioritizing the eldest within the age group.
Initially open to 55 to 59-year-olds, as of May 12, booking was extended to everyone over 50.
Eligible residents will receive an SMS to book their appointment, but authorities also state that people in their fifties can already check to see whether they can book an appointment at vacunacovid.catsalut.gencat.cat. If they cannot, they are advised to try again in the coming days.
Public health chief Josep Maria Argimon explained during a press conference on Tuesday that "vaccinations for the 50 to 59 age group will start from May 10 to July."
The following day, heath minister Alba Vergés said that June is expected to be the "most intense" month in terms of Covid-19 vaccinations, during which 40- to 49-year-olds will also begin to receive their jabs, assuming doses arrive according to schedule.
A quarter of Catalan residents have already received the first dose of the Covid-19 vaccine.
Here's a quick step-by-step guide to learn what you need to know and make an appointment.
The health department is asking residents to wait until they receive an SMS inviting them to book their appointment, as health authorities are prioritizing those at-risk for the jab.
And here's another guide to how you can ensure you'll be included in the public health system's vaccine rollout plan.
To find full details about how the Catalan healthcare system works and how to get a CatSalut card, click here. It is entirely free and is a simple and speedy process.
Step-by-step instructions
Go to vacunacovid.catsalut.gencat.cat and click on the 'Accedir-hi' button at the bottom of the page.
The default option asks you to provide your CIP code. The CIP is a 14-digit code you'll find written on the front of your CatSalut public healthcare card. It contains four letters (normally, the two first letters of your first and second surname), followed by 10 numbers, which should include your birthday in the format YY/MM/DD.
You can also click on the 'DNI/NIE/PASSAPORT' button on the top of the page and instead provide an alternative ID code.
The other boxes request your phone number, name, first surname, second surname (not compulsory), and email address. Fill them and click on the 'Acceptar' button.
You'll receive an SMS code consisting of four numbers. Enter the code in the box and click 'Acceptar'.
There's a list with 20 different vaccination points spread across Catalonia, including public clinics, cultural centers, and other buildings.
Choose a day (the ones in grey are not available) and a time to get the vaccine. Click on 'Confirmar Cita'.
You'll receive an SMS and an email confirming your appointment.