Lowest number of hospitalized Covid-19 patients in seven months
Outbreak risk moves from 'very high' to 'high' for first time in two months, while transmission rate sinks to 0.85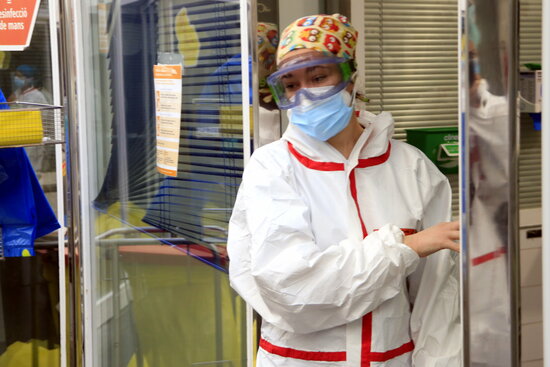 The pandemic situation in Catalonia continues to improve, as the vaccine rollout picks up speed, a record 400,000 doses being administered last week.
The number of hospitalized patients with Covid-19 is now the lowest it has been in seven months, the beginning of the second wave, according to the latest figures by the health department.
On May 11, 1,281 people in Catalonia were in hospitals after getting the disease – this is lower than it was at the lowest points of the second and third waves (1,388 and 1,318) and not since October 17, 2020 (1,218) have figures been better than they are now.
Although, the improvement in the health situation is not yet so noticeable in ICUs, as 423 people are still in intensive care, a place where those admitted spend an average of two and a half weeks. However, the number of people that needed an ICU bed was 507 two weeks ago, but we are still far from the numbers seen in mid-October (213 on October 17).
Another improving figure is the outbreak risk, which has moved from 'very high' to 'high' for the first time in two months.
Using the iEPG index, the outbreak risk is calculated by multiplying the average spread of the virus over the past seven days by the cumulative incidence over the past two weeks.
The limit for 'high' risk is above 100, and 'very high' from 200 – and, for the first time since March 20, this threshold is no longer above 'very high'. On May 11, the outbreak risk was 195.
Also, the transmission rate, the variable that indicates the number of people each positive case is transmitting the virus to, has sunk to 0.85, a low figure not seen since February 17.
Last Sunday, the state of alarm came to an end, bringing the end to several major restrictions, such as the closure of borders and the curfew.
On the night between Saturday and Sunday, large street gatherings were held in order to celebrate the end of the nightly lockdown.
Doctors and authorities fear a possible worsening f the figures in the coming days and call on the public to remain cautious.