Catalonia to propose delaying second Pfizer dose so more people get first dose sooner
10% of people in Catalonia called to be vaccinated with AstraZeneca do not attend their appointment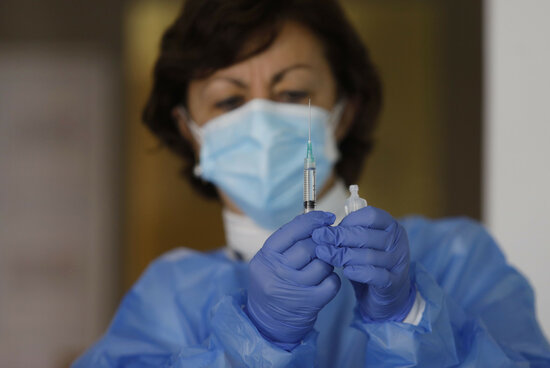 Catalonia will propose delaying the second dose of the Pfizer vaccine in order to vaccinate more people at a faster rate, health minister Alba Vergés announced at a press conference on Tuesday afternoon.
The Catalan government will put forward the proposition at Spain's Interterritorial Health Council meeting scheduled for Wednesday afternoon and urge Spain to follow the example of other European countries including France and Italy.
Currently, the second Pfizer is dose is due 21 days after the first dose, but Vergés suggested this should be doubled to 42 days, thus allowing more people to receive their first dose sooner.
The minister called for more urgency from the Spanish government when making decisions, as 40,000 second doses of Pfizer are scheduled for this week and the second doses of AstraZeneca will begin to be administered on April 26.
10% fail to attend Astrazeneca vaccination appointments
At the same press conference, Dr Carmen Cabezas, a senior health official, said that 10% of people in Catalonia called to receive the Astrazeneca vaccine had not gone to be vaccinated. Her colleague, Dr Josep Maria Argimon was keen to point out that people may not show up to appointments for many reasons, for example, if they have a fever, and therefore it was "not possible" to say that 10% of people had "rejected" the Astrazeneca vaccine.
Regarding the Janssen vaccine, Cabezas said that what they knew so far once what has appeared in the media, that Johnson & Johnson has delayed the distribution of their Covid-19 vaccine to Europe as the United States investigates reports of rare blood clots.
The health minister Alba Vergés said that, following the media reports, Catalan health authorities were were informed by the Spanish health ministry that the 24,000 doses of Janssen due on Wednesday would not be delivered and that they were waiting to see when they will arrive.
Cabezas also explained that the vaccination of people over the age of 80 has almost concluded and confirmed that vaccination of people aged 70 to 79 was underway. She said that the question over whether the second dose of AstraZeneca will be given to essential staff under the age of 60 who have already received the first dose will be debated at Wednesday's meeting of health chiefs.
Vaccine rollout and latest Covid figures
As of April 12, 2021, 1,327,873 residents have been given the first dose of the vaccine, 17.2% of the total population. Out of those, 462,795 have also been administered the second dose (6.00% of the total population).
Official figures state there have been 618,724 confirmed Covid-19 cases (PCR tests and others including antibody tests) and a total of 21,575 people with or suspected to have had the virus have died since the beginning of the outbreak according to funeral homes.