Catalonia confirms it will end curfew and reopen borders on May 9
Government urges citizens to be 'responsible' and will ask court to keep limit of gatherings to six people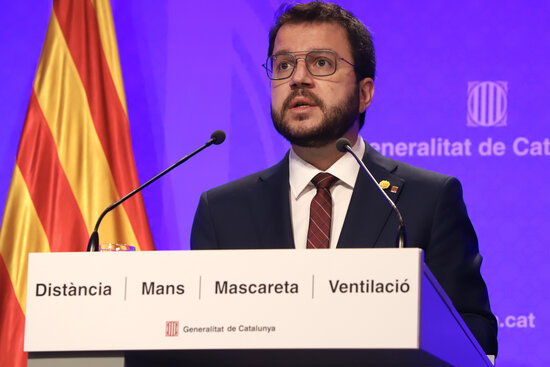 The Catalan government has confirmed it will end the nightly curfew and reopen land borders to other Spanish regions on May 9, coinciding with the end of the state of alarm.
In a press conference on Tuesday, the acting vice president Pere Aragonès demanded "maximum responsibility" from citizens, and reminded that even as Covid-19 restrictions are loosened the fight against the pandemic is not over.
"Now we will start returning to normality after it has been necessary to sacrifice it for the sake of protecting lives and public health," says Aragonés. "But we can't completely leave the health emergency behind yet."
Six months after it came into force, the nightly curfew will be lifted on midnight from Saturday to Sunday, putting an end to one of the most restrictive measures to curb the spread of the virus.
Other restrictions will remain in place such as the limit of gatherings to six people and the compulsory use of face masks. Bars and restaurants will be able to open without breaks, but they must close by 11 pm.
As announced earlier on Tuesday, the government has given up plans to pass new legislation to be able to introduce new coronavirus restrictions after the state of alarm ends.
"As of today, with the tools at our disposal, we don't need urgent legislative changes," said Aragonès, despite it's still unclear whether the government would be able to impose a new curfew.
What courts will have to decide is whether the cap on social gatherings can remain in place, and the Catalan government expects to take the measure before the High Court of Catalonia between Wednesday and Thursday.
Aragonès welcomed the progress in the vaccination rollout, and said he expected 70% of the population to get vaccinated by July. He also said that 80% of over 60s will be vaccinated by the end of this week, something which should lead to a dramatic decrease in the risk of overwhelming intensive care units.