Ukraine's president gets new caganer figurine
Traditional "poopers" in nativity scenes now also feature Catalan farmer waving Ukrainian flag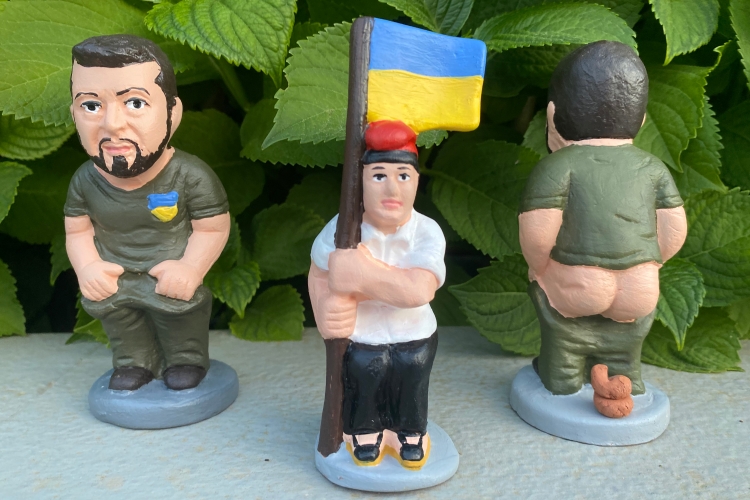 The president of Ukraine, Volodymyr Zelenskyy, has inspired the newest defecating caganer figurine created by Caganer.com. The traditional nativity scene poopers are perhaps one of the most internationally recognized Catalan Christmas customs due to their unusual characteristics.
The business based in the northern Baix Empordà county creates new figurines each year related to the news. After Russia's invasion of the eastern country, Caganer.com also decided to manufacture a Catalan farmer and peasant with typical red 'barretina' hats waving a Ukrainian flag.
These figurines can be found online and in the several stores the company has across Catalonia, including Barcelona.
The creation is far from mockery, but rather a "tribute" to the Ukrainian president, the Caganers.com founders explained. They work "all year," sculptor Marc Alós explained, and not only during Christmas.
Zelensky will now be part of the over 550 caganer figurines collection the company offers. One of them, of Vladimir Putin, is still on sale. Other international politicians in the catalog are Donald Trump, Joe Biden, Barack Obama, Angela Merkel, Emmanuel Macron, and Kim Jong-un.
What are caganers?
Caganers are traditional Christmas figurines depicting anyone from traditional peasants to global celebrities, all in the middle of doing a poo.
Caganers, which literally means poopers, have been around since at least the 18th century. It's customary for them to be placed in the nativity scene, along with the baby Jesus, Mary and Joseph, the shepherds and wise men, and the donkey.