Caganers: Catalonia's curious Christmas crappers
No Catalan nativity scene is complete without these defecating figurines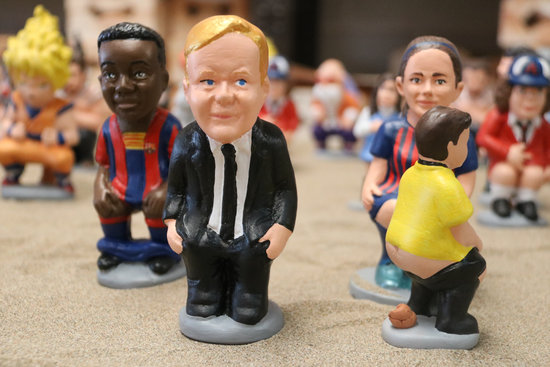 Christmas is coming, and while many seasonal traditions may be familiar around the world – Christmas trees, Santa Claus – others are a little bit more obscure.
The Catalan custom of caganers certainly fits into the latter category. These figurines depicting anyone from traditional peasants to global celebrities share one thing in common – they are all in the middle of doing a poo.
Caganers, which literally means poopers, have been around since at least the 18th century. It's customary for them to be placed in the nativity scene. Yes, in the stable along with the baby Jesus, Mary and Joseph, the shepherds and wise men, and the donkey.
The Girona company caganer.com has unveiled this year's set of figurines and, given the year that's in it, it's no surprise to find many characters with their pants down, but face masks on.
As well as dozens of traditional characters and old favorites, each year the company adds new characters to the collection to reflect the year gone by.
This year, Donald Trump, a popular figurine over the past few years, is joined by masked and maskless versions of Joe Biden.
As always, FC Barcelona is well represented, with Ansu Fati and manager Ronald Koeman new additions for this Christmas.
Political figures are always a big seller. This year many of the best known are now available with masks on, including Pedro Sánchez, Angela Merkel, Emmanuel Macron, Vladimir Putin and Boris Johnson.
Fernando Simón, the epidemiologist familiar to television viewers across Spain for his daily appearances during the state of alarm in spring, is another of the new figurines for 2020.
With in-person sales severely restricted due to the pandemic, the company is hoping to make up for lost sales through its online catalog of around 550 pieces. While the primary market is Spain and Catalonia, US and Canadian sales are also noteworthy.
Last year, the best-selling pieces were those of Catalan singer Rosalía, the characters from the TV series La Casa de Papel and former president, Carles Puigdemont.