Squid Game, Baby Yoda, Catalan and Madrid presidents: new caganer figurines
Traditional poopers placed in nativity scenes will also include Messi in PSG shirt, Kamala Harris and Andy Warhol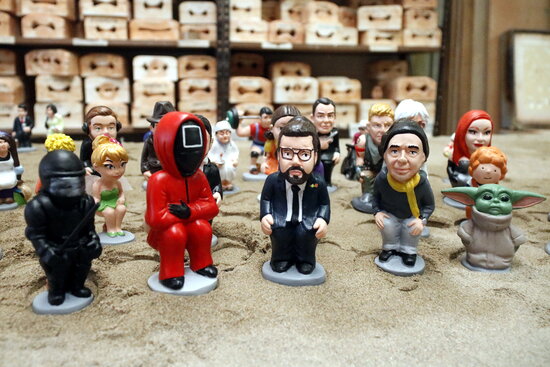 Squid Game, Baby Yoda, the Catalan president, Pere Aragonès, and his counterpart in the Madrid region, Isabel Díaz Ayuso. What do these characters have in common?
They all have the honor to have, from this year, their caganer figurine.
Caganer.com, one of the most successful companies manufacturing and selling the traditional poopers placed in Catalan nativity scenes, revealed on Thursday their new picks for this Christmas.
For instance, Leo Messi, who has had his caganer for years, is also in the list of novelties, because a version of the world's best player in Paris Saint Germain shirt, his new team, is now available.
The United States' vice president, Kamala Harris, will also be depicted in the middle of doing a poo for the first time, with Joe Biden already starring in 2020.
Classic world-famous characters such as politicians, artists and sportspeople will be in the caganer.com catalogue like every year, and the likes of Donald Trump, Barack Obama, Mick Jagger, Rosalia, Shakira or former Catalan president Carles Puigdemont and many others will from this year also be joined by Andy Warhol, Barça's potential new coach Xavi Hernández, Tina Turner, James Bond, Indiana Jones or the Spanish youtuber Ibai Llanos, as well as a Catalan riot police officer.
At prices usually ranging €14 to €18, the firm sells their products – they can also be personalized – online, at Christmas markets such as Barcelona's Santa Llúcia, and also in two shops open all year in the capital.
On Thursday, the spokespeople for the firm announced the opening of a third shop, the first one in the northern Catalan city of Girona.
What are caganers
Figurines depicting anyone from traditional peasants to global celebrities defecating is one of the quintessential Catalan Christmas traditions.
Caganers, which literally means poopers, have been around since at least the 18th century. It's customary for them to be placed in the nativity scene. Yes, in the stable along with the baby Jesus, Mary and Joseph, the shepherds and wise men, and the donkey.
"It's not a provocation, it's normal in Catalonia to have the caganer in the nativity scene," said Dani Cortijo, a historian who specialises in Barcelona and Catalonia, to Catalan News in 2019.
However, "from the perspective of people not from Catalonia, you can see that it's not normal," he adds.
"You can be very religious in Catalonia but if you don't put the caganer in the nativity scene, you cannot have good luck for the next year," warns the historian.
"It starts maybe as a joke, but it's also a symbol of fertilization," Cortijo highlights. Healthy excrement added to the soil leads to healthier crops growing there after. It's an idea that comes from "pagan" times, Cortijo points out, from the days when the land was much more closely linked with the daily lives of all humans.