Poopers for sale: first shop selling Catalan 'caganers' opens in Barcelona
Caganer.com team gather at long-awaited launch, after nearly 30 years of making and selling traditional Christmas figures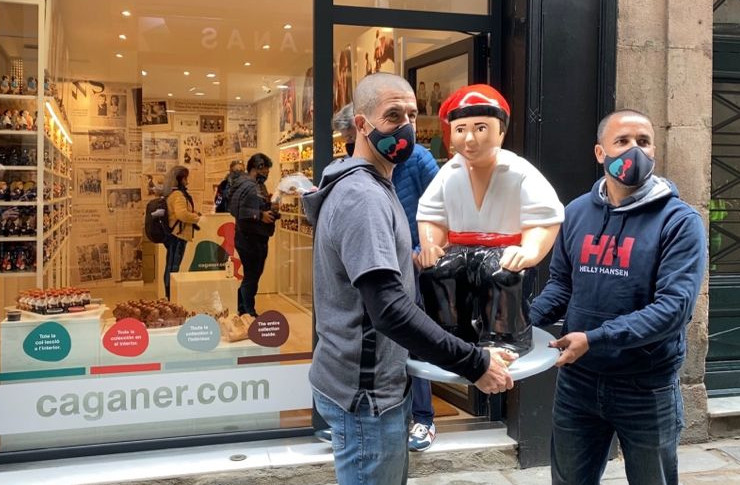 The first, and only, shop in the world to exclusively sell Catalan 'caganers' launched in Barcelona's Gothic Quarter on Wednesday,
Caganers are traditional Christmas figurines depictinganyone from traditional peasants to global celebrities, all in the middle of doing a poo.
Caganers, which literally means poopers, have been around since at least the 18th century. It's customary for them to be placed in the nativity scene, along with the baby Jesus, Mary and Joseph, the shepherds and wise men, and the donkey.
There is a range of caganers on display in the new addition to Barcelona's old town; in fact, Caganer.com has a catalogue featuring over 500 different figures. Some are long-established and some are new this year, for example, one can buy figures of farmers and peasants with red Catalan 'barretina' hats, or rather of Donald Trump, Barack Obama, Mick Jagger, Rosalia, Shakira or former Catalan president Carles Puigdemont, all of them depicted defecating.
Ofelia Bethencourt, head of the shop, explained to Catalan News that the poo is a symbol of "good luck" and "prosperity", since the original caganer was a Catalan farmer and his pooing was seen as good for the harvest.
Whilst normally they are only sold by stalls at Christmas time, Caganer.com told Catalan News that these little presents are particularly popular, positive and, of course, very unique. They are under high demand, especially by tourists, many of whom pass through the "magical" Gothic Quarter when visiting the area. As a result, the shop plans to be open all year selling these special gifts, something which has never been seen before in Catalonia.
The whole team gathered at the launch, with people present who have been hand-making and designing caganers for around 30 years. In its new location, just off of the busy Carrer de Ferran, the shop has already made a statement and served its first customers.