Sagrada Família opens its doors to the public once again
Weekend visits allowed after 7-month pandemic-related closure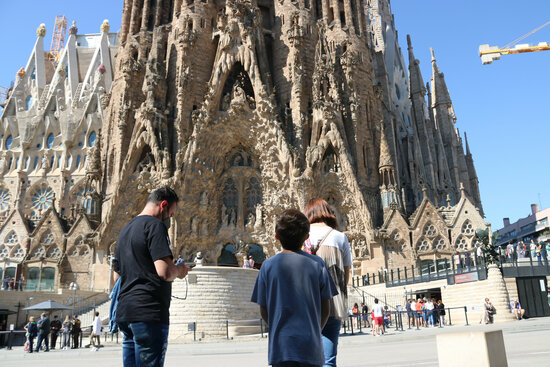 Antoni Gaudí's unfinished masterpiece, the Sagrada Família in Barcelona, has opened its doors to the public once again on Saturday after a 7-month closure.
This is the first time the iconic cathedral is open to the general public since before the pandemic began in March 2020.
However, it was not completely closed over the past year as thousands of free tickets were offered to health workers and Barcelona residents last autumn.
People – up to 4,500 per day, down from the 15,000 before the health crisis began – will now be able to visit the Catalan capital's modernist cathedral on weekends from 9 am to 3 pm.
Long lines of expectant people, mainly from Catalonia and other parts of Spain, but also from abroad, could be seen waiting to enter the basilica on Saturday morning.
"This is our first time in Barcelona," Rali Grosso, an exchange student from California who is studying at the University of Salamanca, told the Catalan News Agency. "This is one of the things we wanted to see the most – this and FC Barcelona's stadium."
María Fernández, from Seville, was just as excited to visit the Sagrada Famíia. "We realized yesterday that today was the first day we could come see it," she said, adding that "everything felt very safe."
The cathedral's director of operations, Marc Martínez, views the Sagrada Família's reopening favorably, highlighting the 1,900 tickets that had already been sold by midday. Although whether it will be able to open on weekdays depends on how the pandemic evolves in the coming weeks as well as health and safety guidelines, Martínez is "optimistic."
"The information we have about the state of the pandemic is favorable, and as more tourists begin to arrive, we'll start opening on more days," Martínez said.
Still under construction
As of last month, the unfinished masterpiece stretches 11 meters taller into the skyline of the Catalan capital thanks to the addition of the pinnacle on the tower of the Virgin Mary, now 127 meters in height. The official Twitter account for the Sagrada Família described the work as the "last step before completing the tower!"
In September, it was announced that Barcelona's incomplete art nouveau masterpiece will not be completed by the centenary of architect Gaudí's death in 2026, as initially planned, due to the halt in construction caused by the coronavirus pandemic.
Construction, which is mainly funded through ticket sales, resumed in January, after grinding to a stop in May 2020, two months after the basilica had closed its doors to visitors.