Sagrada Família stretches 11 meters higher into Barcelona skyline
Shaft piece added to tower of the Virgin Mary, due to reach 138 meters on completion by December 2021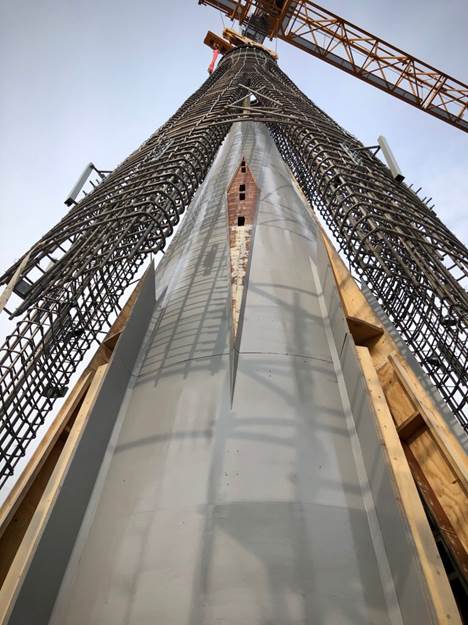 Barcelona's iconic Sagrada Família has stretched a little bit further into the skyline as construction workers added a 10.8-meter piece to the top of Antoni Gaudí's famous basilica on Tuesday.
It is the tallest piece lifted onto the building to date and forms part of the pinnacle on the tower of the Virgin Mary, now 127 meters in height.
The official Twitter account for the Sagrada Família described the work as the "last step before completing the tower!"
Today we're putting in the reinforcement for the shaft that is part of the pinnacle on the tower of the Virgin Mary. This piece is 10.8 metres tall, the tallest we've lifted up onto the Sagrada Família so far, and will reach 127 metres.
Last step before completing the tower! pic.twitter.com/uYlhvzkMsX

— La Sagrada Família (@sagradafamilia) April 20, 2021
This latest move comes after a tweet on Friday explained that all efforts in 2021 were "focused on finishing the tower of the Virgin Mary, the Basilica's second tallest at 138 metres."
The shaft of the tower will be 18 meters high in total, made of reinforced concrete and covered on the outside with blue and white trencadís, or broken tile mosaics.
In December, the tower will be crowned with a star: a piece 7.5 meters in diameter, with 12 points of textured glass that are illuminated from the inside.
In September, it was announced that Barcelona's unfinished art nouveau masterpiece will not be completed by the centenary of architect Gaudí's death in 2026, as initially planned, due to the halt in construction caused by the coronavirus pandemic.
Construction, which is mainly funded through ticket sales, resumed in January, after grinding to a stop in May 2020, two months after the basilica had closed its doors to visitors.
The tallest tower
When the building is eventually completed, the tallest tower, dedicated to Jesus Christ, will be 172.5 meters high. The reasons are not architectural, but religious. Gaudí believed that whatever humans did, they should never aim higher than God's own work—in other words, nature. The hill of Montjuïc, 177 meters high, set a natural limit for Gaudí's most ambitious project.