Sagrada Família's 2026 finish date delayed over pandemic construction halt
Completion of Antoni Gaudí's 140-year-old temple set to miss centenary of architect's death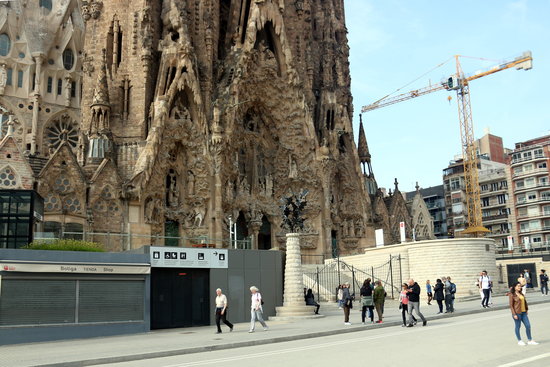 The Sagrada Família, Barcelona's unfinished art nouveau masterpiece, will not be completed by the centenary of architect Antoni Gaudí's death in 2026, as initially planned, as a result of the halt in construction due to the coronavirus pandemic.
In the making since 1882, Gaudí's gargantuan basilica outlived him to become Barcelona's most iconic monument worldwide, with the repeated delays in its completion date becoming a running-joke among locals who fear they will not live to see it finished.
With about a quarter of the project remaining, including the building's tallest spire as well as its main façade, many rejoiced as the construction of the temple entered its final phase — that is, until Covid-19 and the ensuing lockdown measures to stop its spread caused building work to stop.
Construction will resume in the coming weeks, but the temple's foundation has not announced a new completion date.
Free visits for locals on weekend afternoons
Barcelona's most crowded tourist site, which usually receives around 4.5 million visitors a year, closed its doors in mid-March and progressively reopened them as Spain eased its lockdown.
Health professionals and other essential workers during the pandemic were the first to visit the basilica when it reopened in July. Until the end of the year, the temple will welcome Barcelona residents on weekend afternoons, with tickets available for free on the official website.