Mass vaccination site at FC Barcelona's Camp Nou stadium opens
Catalonia surpasses 4 million jabs administered, leaving over 35% of the population with at least one dose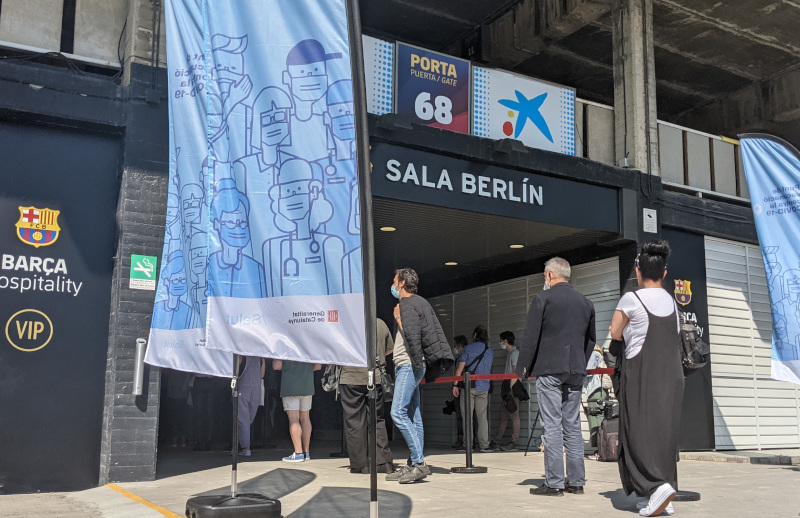 The mass vaccination site at FC Barcelona's Camp Nou stadium has opened on Thursday, with the capacity to administer 2,500 doses per week in four separate booths.
Emblematic sites such as Barça's home ground were chosen as mass vaccination sites in order to encourage the population to book their appointments if they are invited to do so.
The facility, located in the Sala Berlín room of the stadium, will be open for a short but intense period of three weeks, and will assist the ramped up vaccine rollout scheme.
In March, then-health minister Alba Vergés presented a plan with a network of 500 mass vaccination sites across Catalonia to cope with up to 500,000 doses a week.
Catalonia surpassed four million doses administered according to the latest figures released by health authorities on May 27, with 2.7 million of those being first doses covering over 35% of the population.
More than 16% of the population are already fully immunized.
Second doses for essential workers are beginning today, while for the general population, jabs are currently being offered to residents in their 50s. Health authorities expect to offer doses to people in their 40s by mid-June, and everybody else below the age of 40 at some point in July.
ICU patients below 300
The number of patients with Covid-19 in intensive care has fallen below 300 for the first time since October 21, before the second wave in Catalonia. Currently, there are 272 patients in Catalonia in intensive care due to Covid-19.
Across February, March and April, the number of patients in intensive care did not change much, staying between 400 and 500 for most of that time period.
Alongside this reduction, the number of hospitalized patients has also been on the decrease - as of the latest data released on May 27, the number of people hospitalized with Covid-19 stands at 780.
Although, just over two weeks since the state of alarm ended, which brought a relaxation of measures such as the end to the nightly curfew and the opening of bars in the evening, the Covid-19 transmission rate has begun to rise gradually over the last week, after hitting a low of 0.74 last week.
According to the latest data released on May 27, the R number stands at 0.96 - rising over 1 would concern authorities.