Zero-gravity, beachside techno, international headliners: Sónar 2018 begins
One of Catalonia's biggest electronic music festivals kicks off its 25th edition with parties, conferences, and more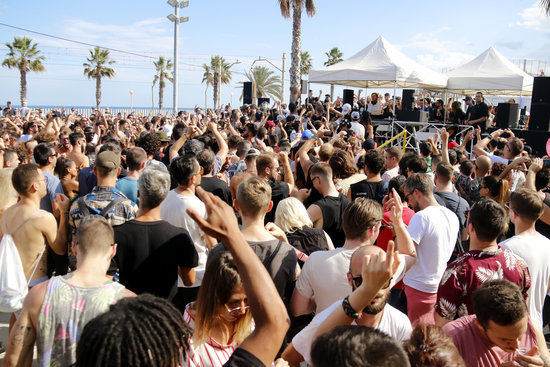 Just in time for the weather to truly get warmer comes one of Catalonia's most anticipated festivals: Sónar, an electric combination of sunny outdoor dance parties, underground nighttime revelry, and a meeting point for innovative music technology. And this year is special: it's the event's 25th birthday.
150 artists to choose from
The event runs from Thursday, June 14 until Saturday, June 16, featuring the likes of singer Thom Yorke, frontman for Radiohead, Atoms for Peace, and behind various solo projects in his only European stop. Additionally headlining is fictional cartoon band the Gorillaz, premiering their much-expected new album.
The explosive lineup also includes varied names like LCD Soundsystem, Modeselektor, Bonobo, Diplo, Laurent Garnier, and many more. The festival is separated, as with every year, into two sides of the same coin: Sónar by Day, a fun summer outdoor jam to enjoy with your friends. Then, when the sun goes down, comes Sónar by Night, a nighttime revelry lasting until the break of dawn with live shows and DJ sets from big-name international musicians. In total, there will be 230 activities, as well as 150 artists to perform on 9 different stages. The '18 edition disposed of a budget of 9.2 million euros.
Artificial intelligence, zero gravity, dance music
But Sónar, as Barcelona mayor Ada Colau was quoted as saying during its opening installation, is "much more than a music festival." Indeed, it's an all-encompassing creative experience filled with opportunities in the sector of electronic music in just about every way imaginable. Throughout the week, the offshoot event Sónar+D provides conferences, talks, workshops, installations and more. This year, it takes the opportunity not to reflect on the past quarter of a century, but to look ahead.
The 6th edition of Sónar+D, held at the Fira de Montjuïc fairgrounds in the Catalan capital, will, in fact, analyze what the future holds regards music, technology, the internet, space travel, and knowledge itself, with projects like music in zero gravity and music by artificial intelligence. The event includes guest organizations such as NASA, MIT Media Lab, Google Magenta, Mozilla, and Bandcamp. In total, more than 100 activities will take place with 150 speakers over four days.
A wide-reaching event
But Sónar is much more than only Barcelona, as well. Badalona, a town to the north of Barcelona, welcomed for the second year in a row Canadian techno DJ Richie Hawtin, who played a beachside set under the shade of the palm trees to almost 6,000 fans. If you missed him, don't worry – the seasoned producer will also play on Saturday night in Barcelona's Sónar.
The festival already started revving its motors on June 13 – in the Barcelona City Council, no less. In the inner courtyard of the government building, it premiered is audio-visual installation laser show 'Chiasm,' a free event to see the work of artist, composer, and sound researcher Edwin van der Heide.
Success, year after year
Sónar has been besting its own attendance year after year. Sónar+D drew in 5,500 professionals come to network, learn and teach, from a whole 75 different countries to sold-out sessions, one even headed by musical legend Brian Eno.
In 2017, it brought to Barcelona musicians like Icelandic singer Björk, Justice, Nicolas Jaar, Soulwax, Dj Shadow, and many, many more. That year, it broke its own records with close to 124,000 attendees – and this year promises to be no different.