Ready, set, Sónar: festival kicks off tomorrow
The electronic music event already began with various events and performances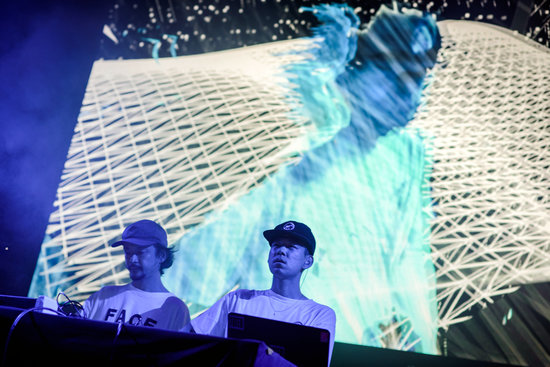 The long-awaited electronic music extravaganza Sónar, one of Catalonia's most popular festivals drawing attendees and artists from around the world, is just hours away. Featuring names like Thom Yorke and Gorillaz, the event begins on Thursday June 14 and will run until Saturday June 16 – but there's much more to Sónar than those three days. In fact, the event is a multidisciplinary cultural wave that takes over the city for close to the whole week of mid-June.
A wide array of activities
Sónar+D is perhaps the most well-known of these additional events. The technology, music, creative industries and networking congress is celebrating its 6th edition this year, and is looking towards the next quarter of a century: not only for music, but for space travel, music, technology, knowledge and the internet. It includes guest organizations such as NASA, MIT Media Lab, Google Magenta, Mozilla and Bandcamp.
Additionally, Thursday June 14 will see a performance by the Barcelona Symphony and Catalonia National Orchestra (OBC) interpreting a minimal piece by Terry Riley. A very different performance will take place at the Skate Àgora Park in Badalona, north of Barcelona, with a set by legendary Canadian techno DJ.
The festival already started revving its motors on June 13 – in the Barcelona City Council, no less. In the inner courtyard of the government building, it premiered is audio-visual installation laser show 'Chiasm,' a free event to see the work of artist, composer, and sound researcher Edwin van der Heide.
Sónar's 25th birthday
This is the 25th anniversary of the renowned event, which is separated, as it is for every year, into two sides of the coin: Sónar by Day, a fun summer outdoor jam to enjoy with your friends. Then, when the sun goes down, comes Sónar by Night, a nighttime revelry lasting until the break of dawn with live shows and DJ sets from big-name international musicians.
The lineup for this year includes Thom Yorke – frontman for Radiohead, Atoms for Peace, and various solo projects, on his only European tour date. Yorke will take to the stage alongside Gorillaz (presenting their new album), LCD Soundsystem, Modeselektor, Bonobo, Diplo, Laurent Garnier, Richie Hawtin, and more. In total, there will be 230 activities, as well as 150 artists to perform on 9 different stages. The '18 edition disposed of a budget of 9.2 million euros.
A 24th success
Last year, the festival brought in a record-breaking 123,000 people, and Sónar+D drew in 5,500 professionals come to network, learn and teach, from a whole 75 different countries to sold out sessions. Last year's Sónar+D featured work by musical giant Brian Eno, while some of the groundbreaking musicians to headline the 24th edition were Icelandic singer Björk, Justice, Nicolas Jaar, Soulwax, Dj Shadow, and many, many more.