What will Catalonia's 2021 festival season look like?
Masks, rapid testing, and sitting down, health measures will be a main feature of all gigs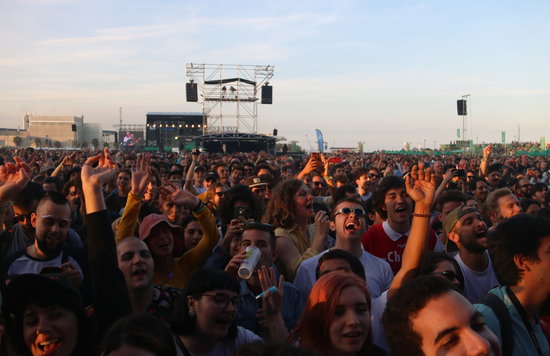 The 2021 festival season will undoubtedly look very different to any we have seen before. Lots of Catalan music festivals are hoping to put on some sort of show this year but with the constantly evolving health situation, plans are not yet set.
Last year, many festivals were cancelled due to the pandemic, yet some went ahead by July such as Peralada and Cruïlla, but with much reduced attendance and nearby artists.
Although some of the biggest festivals in Catalonia such as Primavera Sound and Sónar do not feel ready to announce if they will be definitely going ahead with this year's programmation, others are feeling more optimistic.
After a trial gig at Barcelona's Apolo concert hall, to identify if these types of events were safe showed very positive results, directors of festivals have started working on a plan to present to authorities in order for concerts to go ahead.
So, in 2021, what does a festival look like?
More safety measures
As is to be expected, measures to prevent Covid-19 will be in full swing at these events, however, different music events have proposed varying levels of protection.
The Cruïlla festival in Barcelona has released its dates on its website - July 8-10, 2021 - and hopes to celebrate in nearly the same fashion as before.
Jordi Herreruela, the head of the festival, has proposed rapid tests at the doors, or proof of a vaccine, in order to enter.
With this, he believes all attendees will need is a mask to enjoy the festival safely, with no social distancing required.
However, most concerts such as Canet Rock are projecting much tighter safety measures, with rapid test, masks, an app and widening the festival grounds to accommodate 50,000 people.
Although it might seem like an oxymoron to have a completely seated festival, it is a topic currently up for debate, which would certainly be a massive change for the festival scene.
As director of Peralada festival Oriol Aguillà explained to the Catalan News Agency (ACN), one of the "very favourable" advantages of festivals during Covid times is that they are open-air, which organizers hope will push authorities to allow a full summer season.
In fact, Pedralbes festival, which still went ahead in 2020 (with much fewer people than usual) is hoping to hit the saem capacity as in 2019, but with a larger space.
Less international acts
With mobility restrictions heavily applied across the world, most concerts are planning to receive much fewer international acts.
Nonetheless, El Vida festival still boasts global headliners such as Scottish band 'Belle and Sebastian' and British indie rock group 'alt-J'.
Peralada Festival explained that for example it would be hard with restrictions to bring in their usual dance troops, who sometimes include up to 80 people.
One festival that does not have to worry about flight bans, country-wide lockdowns, and international closures is El Canet Rock, which showcases talent from Catalan speaking areas.
Although festivals might feel different this year, organizers such as Canet Rock's Gemma Recoder, assured they "are envisioning festivals and are fighting to put them on.", whatever that may look like.
Apolo study
Primavera Sound festival, German Trias i Pujos Hospital and the Fight AIDS foundation were behind the study, which took place in October in the Apolo concert hall.
1,000 concert goers attended the venue in a trialto see how well rapid tests worked in a situation where people were then in an enclosed space, watching a concert, singing and dancing.
Attendees also had to wear N95 masks, the hall was ventilated, and everyone's temperature was tested.
The study concluded that as long as these measures were reciprocated, people could begin attending these events once again.