Street artist mocks former king's exit from Spain
Juan Carlos I left for the UAE in early August amid a string of corruption allegations while under investigation by Supreme Court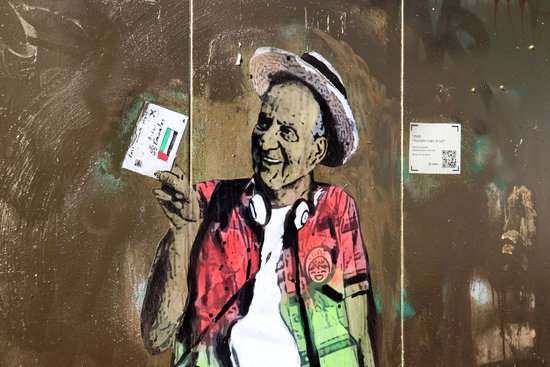 Street artist TV Boy has mocked the former Spanish king's exit from the country to the UAE with a work depicting the ex monarch jetting off with a suitcase packed with cash.
In early August, the former king left Spain for a then-undisclosed location in order to protect the image of his son, Felipe, the current ruling monarch while under investigation from the Spanish Supreme Court.
The former king has been embroiled in numerous scandals and corruption allegations over the past months, and earlier this week it was revealed that he went to the United Arab Emirates.
In the work, titled 'Travelling like a King', Juan Carlos I is depicted as a normal holiday-goer, wearing shorts and delightfully waving his plane ticket. The piece is also pasted onto a background of gold.
The artist has made headlines in Barcelona before for various other works including one of rival footballers Gerard Piqué and Sergio Ramos kissing, right-wing politicians Santiago Abascal and Pablo Casado embracing in front of a rainbow backdrop with a message of 'Love Unites,' and most recently of George Floyd, the African-American man killed by police officers that sparked huge anti-racism protests around the world.
Investigation into former king
Juan Carlos I is under investigation by the Supreme Court for allegedly receiving commissions in exchange for interceding that a Spanish consortium won a contract to build a high-speed train link to the city of Mecca, in Saudi Arabia.
While the Spanish constitution states that a king cannot be judged by any means, Juan Carlos' abdication in favor of his son, Felipe VI, in June 2014 apparently put an end to his immunity.
On March 14, British newspaper The Telegraph published revelations that Felipe was named as a beneficiary for an offshore fund allegedly containing 65 million euros. The next day, the king relinquished his father's legacy and withdrew his allocation from the royal family's payroll.
In May, media in Spain reported that Juan Carlos I was given 1.7 million euros in cash by Bahrain's sultan, Hamad bin Isa al Jalifa, in 2010.
In July, Spanish president Pedro Sánchez said he was open to an amendment of the constitution to limit the legal immunity of public officials, including the king.
As the corruption-ridden legacy of king emeritus Juan Carlos I continues to haunt the Spanish monarchy, calls to strip the crown of its constitutional inviolability have grown louder.
Also in July, Barcelona mayor Ada Colau called the monarchy "corrupt" and called for a referendum to remove the monarchy and install a Republic.