Romanesque and Roman wonders mark 20 years since UNESCO World Heritage recognition
Medieval churches in Vall de Boí and Roman-era Tarraco complex celebrate twentieth anniversary of international award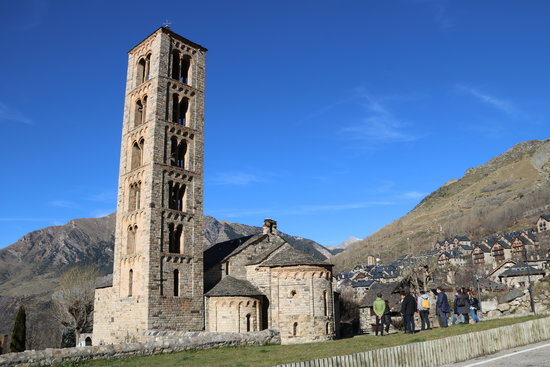 Twenty years ago, Catalonia saw two of its crown jewels recognized as UNESCO World Heritage sites: the Romanesque churches and artworks in Vall de Boí, in the North, and Tarragona's Roman-era wonders, in the South.
For both sites, receiving UNESCO recognition meant a turning point, bolstering their image internationally—but many challenges still lay ahead.
The mayor of Vall de Boí, Sònia Bruguera, said that the population has increased from 800 to 1,100 since being awarded the UNESCO honor in 2000.
The eight churches and one hermitage that form the Romanesque complex, including Sant Climent and Santa Maria de Taüll, have attracted two million visitors during the past 20 years, which fostered economic growth and allowed several tourism-oriented businesses to open.
The isolation of the Boí valley, located in the Catalan Pyrenees, allowed buildings and paintings to be extraordinarily well preserved from the 11th and 12th centuries, and some murals are now exhibited in the National Art Museum of Catalonia (MNAC) in Barcelona.
In Tarragona, named after Tarraco, the ancient capital of the Roman Empire's Tarraconensis province in Hispania, there is a great archeological complex encompassing an amphitheater, a forum, walls, a theater, and other structures, dating from the 3rd century BC to the 6th century AD.
While the UNESCO recognition put the city on the map for international tourism, experts believe that a lot of work still needs to be done in the way the archeological complex is preserved and presented to visitors.
"We need a new narrative, one that presents Tarragona as an open air museum," said Hermán Piñedo, the patrimony local councilor in Tarragona.
The UNESCO World Heritage is a plan to protect cultural and natural resources whose aim is to preserve and showcase places that are humanity's inheritance. UNESCO now lists 851 places or cultural manifestations all over the world, six of them in Catalonia.