Rap video denounces repression from prison
Song 'The Bourbons are Thieves' takes lyrics in solidarity from accused rappers Valtonyc, Hasél, and La Insurgencia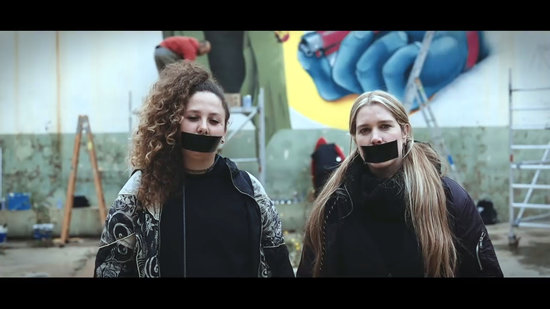 The centrally-located Model Prison has been many things. The oldest penitentiary center in Barcelona, a remaining symbol of Francoist oppression, it was closed in summer 2017, inmates moved to new facilities, and is now to be used as a civic and cultural space. It's even housed a preschool. Now, it's also the location of a new rap music video, for a song called 'Los borbones son unos ladrones.'
The title translates as 'The Bourbons are thieves' referring to Spain's ruling dynasty. Thirteen hip hop artists are featured in the video, but some of the words spoken are not their own. The text, in fact, pays homage to rappers Valtonyc, Hasél and La Insurgencia, all facing jail time for the lyrics in question. The rappers under these three monikers have been sentenced to between two and three years in prison, with charges such as glorification of terrorism, slander, defamation against the crown, and threats.
Collectively assuming 'criminal responsibilities'
The song, released by the record label Porpaganda pel Fet, premiered Monday to denounce what the artists consider is "a turn for the repressive" by the Spanish State. According to a statement released by the record label, the use of allegedly incriminating lyrics by Valtonyc, Hasél and La Insurgencia in a collective music video aims to "challenge the judicial machinery through the collective assumption of criminal responsibilities."
The title of the song itself is originally from the lyrics of 'No al Borbó' ('No to the Bourbon' in English) by Mallorcan rapper Valtonyc, for which he was sentenced to 3 and a half years in prison. The statement by Propaganda pel Fet further claims that hip hop "is and will be a collective cry of denunciation and empowerment." Indeed, the first words spoken in the clip are "art is not a crime."
'Neither judge, nor prosecutor, nor Bourbons'
The lyrics are spoken in both Catalan and Spanish, calling for "freedom of expression" and chanting "neither judge, nor prosecutor, nor Bourbons." The music video ends with individuals – both rappers and seemingly ordinary Barcelona citizens – with black gaffer tape over their mouths, standing as a symbol of repression, which they ultimately are seen ripping off.
So collective was this project that personalities from all facets in the world of hip hop took part. This includes, as well as MCs, turntablists, break dancers, and graffiti artists. Additionally, local musicians of all sort were involved, including Txarango, Gossos, KOP, Pirat's Sound Sistema, Companyia Elèctrica Dharma, and Smoking Souls, all speaking out against what they claim is censorship.
Amnesty International
This song is the latest action protesting these charges, some put forth by the artists themselves, others from performers from fields like the theater, all arguing for freedom of speech. Shortly after the charges were brought, Amnesty International also released a report warning that Spain's counter-terror law is "used to crush satire." The song 'The Bourbons are thieves' joins a collective campaign under the hashtag #NoCallarem (#WeWillNotShutUp).