Primavera Sound launches summer programme of night concerts
More new acts announced for 2021's edition of Barcelona's biggest music festival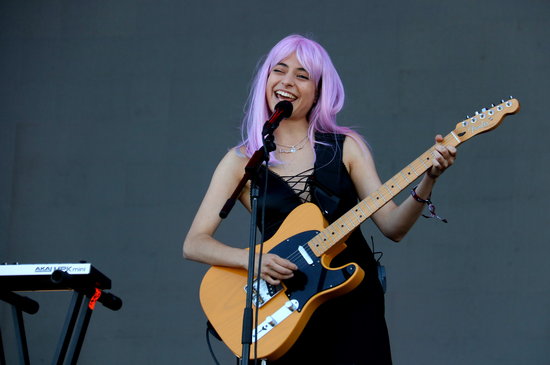 This year, Primavera Sound were supposed to celebrate their 20th anniversary with one of the biggest festivals in the organization's history, with an expanded programme and new innovations.
However, the Covid-19 pandemic changed the entire world's plans, and all gigs and festivals were put on pause. Primavera Sound would expect to draw over 200,000 fans over the course of the full weekend, and such a large scale events have been cancelled for this year.
Despite this, and with the evolution of the pandemic stabilizing somewhat, Primavera Sound are determined to bring music to the lives of Barcelona residents, and as such, they've unveiled an impressive schedule of concerts to take place on nights through the summer.
Known as 'Nits del Fòrum,' the gigs kick off on June 27 and lasting until September 20, and will feature artists such as Amaia, Núria Graham, Pavvla, and Hinds.
¡Los conciertos al aire libre vuelven a Barcelona! Nits del Primavera y Nits del Fòrum abrirán el anfiteatro del Parc del Fòrum a todo tipo de propuestas musicales durante 70 noches. https://t.co/1eEjNQKF3R #NitsDelForum #NitsDelPrimavera pic.twitter.com/MfbM3W4lFJ

— primavera_sound (@Primavera_Sound) June 8, 2020
Primavera Sound festival organisers say they are also working in conjunction with other cultural venues in the Catalan capital, such as Sala Apolo, to offer an even wider selection of proposals.
In this first announcement of summer concerts, the details of 42 gigs have been released, with the promise of more to come.
More acts announced for 2021
Along with this summer's gigs, a further set of new acts were announced to take part in next year's comeback edition.
Among the names added to the lineup are Kim Gordon, Khruangbin, and Ben UFO.
They join a stellar list of artists that are already confirmed to play in Barcelona on June 2-6 next year including Tame Impala, Tyler, The Creator, Charli XCX, FKA twigs, Gorillaz, Caribou, Jorja Smith, and many more.
This is it! Primavera Sound 2021 Barcelona line up.
Day tickets on sale from Thursday 11th June at 11:00 (CEST)! https://t.co/Kg8jrAme5h pic.twitter.com/VElPLm1hPg

— primavera_sound (@Primavera_Sound) June 9, 2020
Notes al Parc in Girona expanded
This year's 'Notes al Parc' in Girona will be extended, with 14 free concerts taking place in the Plaça de les Botxes in the Devesa park in the city. The cycle will start on July 1 and last until August 29.
The gigs will take place on Saturdays and Wednesdays at 8 pm and will have a maximum capacity of 200 spectators at each one.
Concerts will be free but tickets must be booked in advance through the council's website or by collecting them in person at the Auditorium and the Municipal Theater.
Carles Ribas, the councilor for culture in the north Catalan city, emphasized that this year there will be more emphasis on local artists in the programme. The councilor also said that they had to adapt the concert schedule to health regulations and therefore chose to concentrate all the programming in the Devesa park, which offers more open space.