Meet the Barcelona bookshops taking on online shopping giants
Stores both old and new offer services and atmosphere absent from book purchasing websites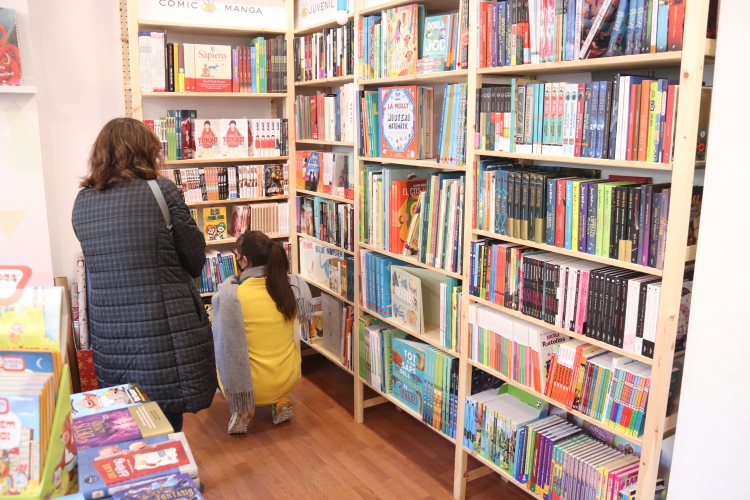 Bookshops all around Barcelona are withstanding the immense challenge presented by the recent trend towards online shopping in the last few years, as well as the pandemic.
Many bookshops identified the main threat as the practicality, speed and comparatively low prices of their online counterparts, as these small businesses simply cannot compete with the immense resources of larger corporations, allowing them to sell and distribute individual texts for a lower price, whilst also arriving at the customer's door quicker.
Catalan News spoke to some of the oldest bookshops in the city, such as Pompeia, founded in 1922 and passed down the generations to Ricard Martí, who highlighted that bookshops "don't do discounts or anything of the sort", compared to online stores which "often have loads of sales."
Listen to our latest podcast to learn more about these traditional bookshops.
Just three years later, Alibri bookstore was founded on Carrer de Balmes in the city center. Independent bookstores "cannot fight" with the resources of large online corporations, who can ensure that books "arrive in one day from one point to another," said bookseller Alejandro López.
In 2020, the pandemic arrived as both a blessing and a curse, as while customers could no longer visit these establishments in person, it necessitated bookshops to improve their online services, or even go online for the first time.
This meant that they were able to keep earning over the numerous lockdowns, whilst also providing competition for websites such as Amazon.
President of the Catalunya Booksellers' Guild, Maria Carme Ferrer, told Catalan News that the impact of online shopping "does affect bookstores, but perhaps less than what [they] originally thought it may do," as modern bookshops are "selling a quite a bit over the internet."
Furthermore, what high street bookstores lack in price competitiveness, speed and ease, they more than make up for with the personal touch, as booksellers can provide services unmatched by technology, such as recognizing a book from its description or recommending books based on your interests or reading history.
Max Figueres from English-language bookstore Come In, just up the road from Alibri, assured that customers "can always ask a bookseller their opinion for recommendations," whereas Alejandro López pointed out that they have the added skill of using a description of the book or its cover to "try to guess the book."
Stores also aim to garner a community of loyal booklover customers with their literary events, such as book clubs, talks with authors and prizes.
Lots of shops also offer pleasant spaces with sofas to sit down, relax, and enjoy books before buying them, thereby encouraging visitors to spend more time in their shops.
This is the case with bookshop Llibreria Finestres in the Eixample neighborhood of Barcelona, boasting a terrace and café for customers to flick through their chosen books in the sun.